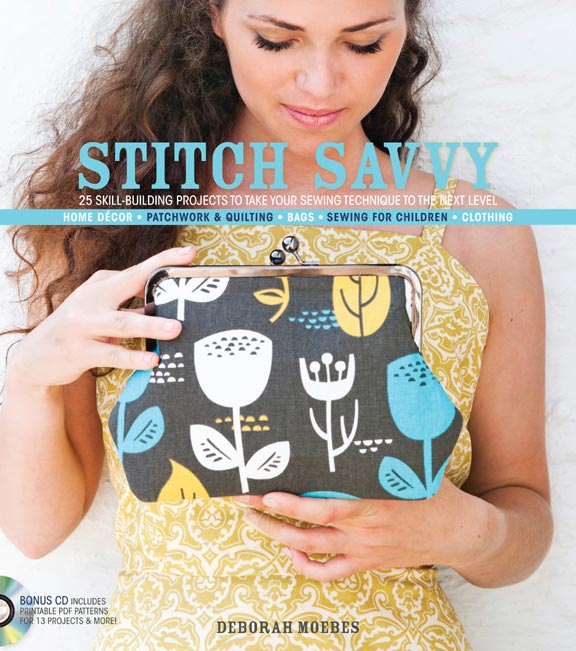 Today I'm excited to be part of the Stitch Savvy blog tour! Written by Deborah Moebes (author of Stitch by Stitch: Learning to Sew One Project at a Time), this book will help take your sewing ability to the next level with 25 projects of different levels that allow you to choose your own sewing path as you learn. The bags, quilts, clothing and home décor projects in the book are useful as well as pretty. The book is hardcover, spiral-bound, and includes a CD with printable PDF patterns.
Deborah is the owner of Whipstitch Sewing Lounge here in Atlanta and is a great teacher, which really shines through in her book. With photos of the step-by-step instructions and advice given with Deborah's energetic writing style, this book conveys both Deborah's experience as a teacher as well as her enthusiasm for sewing. As you finish each project, there is a section with suggestions for projects in the book to try next that utilize the same set of skills. Though I haven't had a chance to make any of the projects yet, I'd love to make the Beaded Evening Clutch (pictured here on the cover), followed by the Knit Top and Photo Transfer Wall Art. There is a wide variety of projects, so something to interest anyone here, whether you love to make quilts, bags, clothing or pillows.
Below you can see some projects from the book, along with some of my own fabric suggestions. See, I mostly like to shop for fabric and think about what I will make. And I've suggested a couple of fabrics from my new Stamped collection, of course. I really do need to sew some things with it, but I need to get some more fabric first!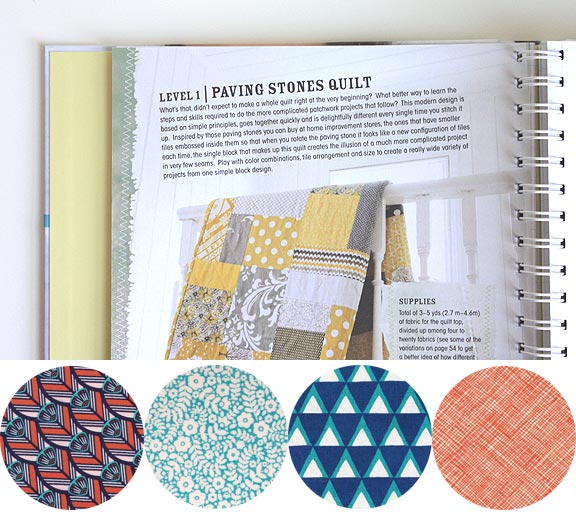 Of a Feather by Rashida Coleman-Hale for Cloud 9 Fabrics.
Leonard from the Liberty Bloomsbury Gardens Collection.
Triangles from my Stamped collection for Kokka.
Crosshatch by Carolyn Friedlander from her Architextures collection for Robert Kaufman.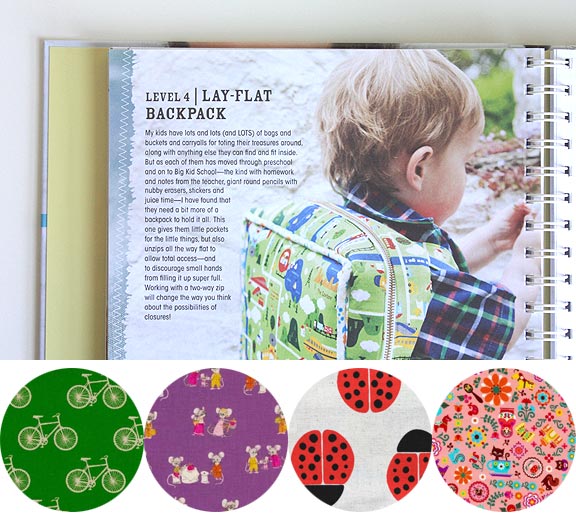 Echino Bicycles in spring green.
Country Mice from the Nursery Versery collection by Heather Ross.
Ladybugs in red from my Stamped collection for Kokka.
Kawaii Folk Art print.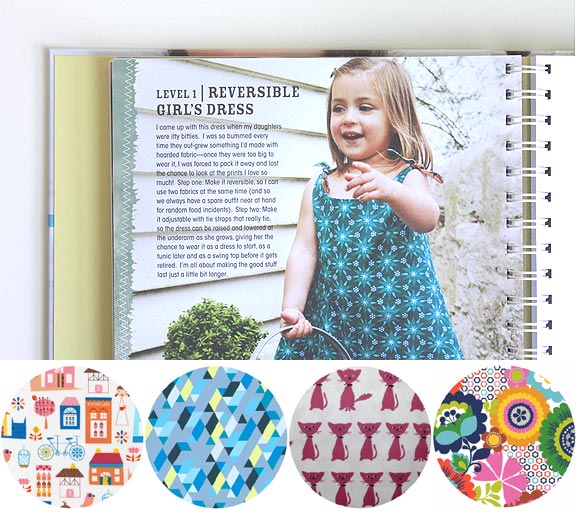 Suzy's Dollhouse by Suzy Ultman for Robert Kaufman.
Supernova by Lizzy House from her Constellations collection for Andover.
Scaredy Cat in Pink from Kokka.
Gabbie Serendepity by Maude Asbury for Blend Fabrics.
____________________________
I hope you'll check out Stitch Savvy and visit these other blog stops on the tour:
Wednesday, January 8:  One Shabby Chick
Thursday, January 9:  Pink Chalk Studio
Friday, January 10:  Noodlehead
Monday, January 13:  Fresh Lemons
Tuesday, January 14:  This Mama Makes Stuff
Wednesday, January 15:  I'm a Ginger Monkey
Thursday, January 16:  MADE
Friday, January 17:  Stitched in Color
Tuesday, January 22:  Creative Thursday
Wednesday, January 23:  Whipstitch