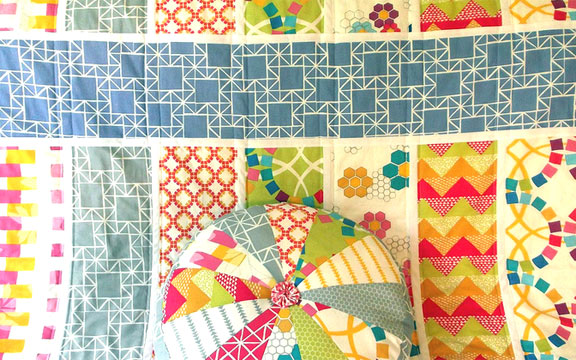 Last month, I posted a challenge for handmade shop owners using my Quilt Blocks fabric. Today, I'm featuring one of the three winners (in no particular order). Cheryl from Will Sew for Chocolate made the pillow and quilt that you see above. I love how bright and cheerful this looks. Here's a bit from Cheryl about how she started her shop, along with some photos of her work:
Lucky me! Creativity has surrounded me all of my life. Mom gave me the talent for working with fabric and thread. Dad was a professional draftsman who gave me a talent for sketching and painting. My sister Kay shares my love of sewing and quilting. My four other sibs (all sisters) sewed once upon a time, but now focus their creativity into creating beautiful homes and gardens. My daughter Nicole doesn't currently share my love of a sewing machine; she prefers to decorate her apartment, paint, and create adorable greeting cards. I'm confident she has the sewing and quilting gene somewhere inside her just waiting to get out!
I currently sew colorful quilts, pillows and whatever suits my fancy, for my new etsy shop "WillSewForChocolate". I can hardly believe that only 1 year ago a friend told me I should sell my creations on etsy… and my response was "What's etsy?"! After some research, I opened my etsy shop in December 2011 and now have quilts that have gone to live in Florida, Connecticut and Guam. How cool is that!
In my free time, I have fun creating girly, glam dresses for my little niece Lily in my "Chocolate Factory" (a.k.a. my sewing room). When I'm not working with fabric, I'm building flower and vegie gardens in my yard and unintentionally sharing them with the rabbits and chipmunks that live here in sunny Madison, Wisconsin.