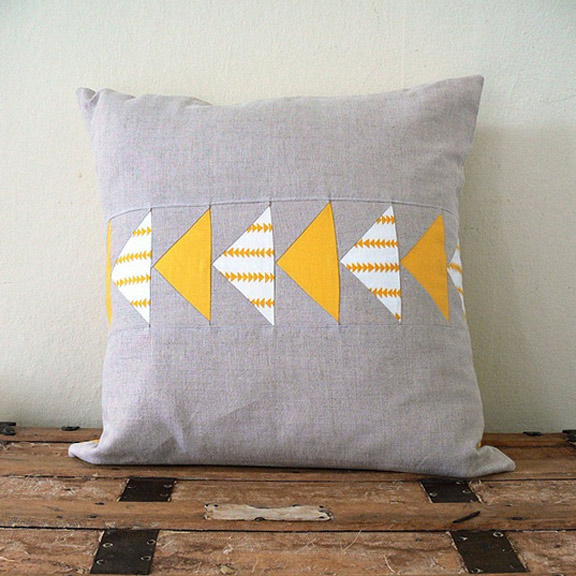 I had almost forgotten about the Quilt Blocks Shop Challenge! This is a challenge that I proposed using my Quilt Blocks fabric to make something for your handmade online shop, local craft fair, or to sell at a fundraiser. The three winners will receive a blog feature along with three months of free advertising in the sidebar. There are a few amazing entries in the flickr pool, including this  great pillow by Jenny of Stumbles and Stitches.
But since I nearly forgot about it, I'm going to extend the deadline 10 days for anyone else who wanted to enter! Thanks to those of you who scrambled to get your entries in on time — all of your entries are great and I'll mention each of your shops in a post regardless of whether you win or not. So, those of you who haven't gotten an entry in yet will have until Monday, June 11 at midnight to enter. That will give you time to order fabric if you need it. Links to online stockists are in the sidebar to your right.
Here are the rules:
1) Make something with my Quilt Blocks fabric for your shop. It can incorporate any of the prints, alone or combined with solids.
2) Post a photo to the Quilt Blocks Flickr group here and add the tag "QuiltBlocksShopChallenge".
I will pick my three favorites and each handmade artist will be featured on The Long Thread with a dedicated post profiling the shop owner and the shop. You will also receive three months of free advertising over there in the sidebar. PLUS five yards of Quilt Blocks fabric! So get started making stuff!
Can't wait to see what you make! And those of you who make things for fun and don't have a shop, I want to see your creations too. Be sure to add your photos to the Flickr photo pool as well. Thanks!