Today I'm excited to be part of the Ruby Star Wrap-Along to celebrate the new book Ruby Star Wrapping from the sweet and talented duo of Melody Miller and Allison Tannery. Melody made the projects and Allison wrote the text, then Melody's husband took the photos and Allison's husband did the layout. Those are some seriously talented couples! The book features simple and creative ideas for gift packaging, many projects using re-purposed materials or items you may have on-hand. With 30 project ideas plus variations, this book will inspire you to put that extra time into making a gift look special.
I chose to do the felt ball theme, because I haven't done any felting in a while, and I wanted to try it again. Now, it's much easier to buy felt balls. I recently bought some nice ones from this Etsy seller and plan to turn them into garland. But you can also make them!
This is a very good video that will guide you through the wet felting process, but truthfully, it took me about 10 minutes to make each ball and unless you enjoy pruning up your hands in hot soapy water, you might prefer to just buy them! I do think wet felting is a fun project for a craft night or a project to do with kids (wearing rubber gloves). You just need wool roving, hot soapy water and elbow grease. You can see my first couple of attempts over on A Happy Stitch, where I wrote a post for Melissa's Fail Friday about craft failures, or as I call them — experiments. Anyway, I don't know how my friend Laura has the patience for felting.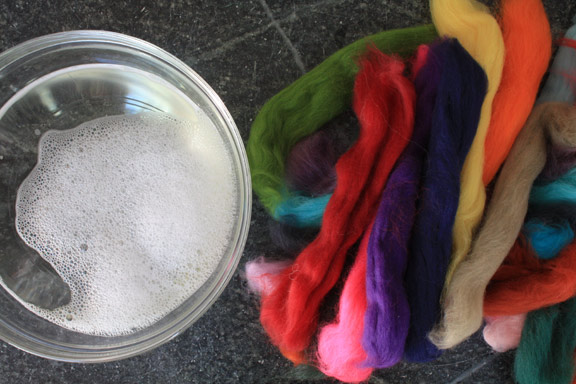 So…now you've made (or bought) the felt balls. What to do with them? Melody has some great ideas for garland and gift packaging. I had some medium gauge wire on hand, so I tried the lollipop bouquet (pictured in the two photos from Melody's book below).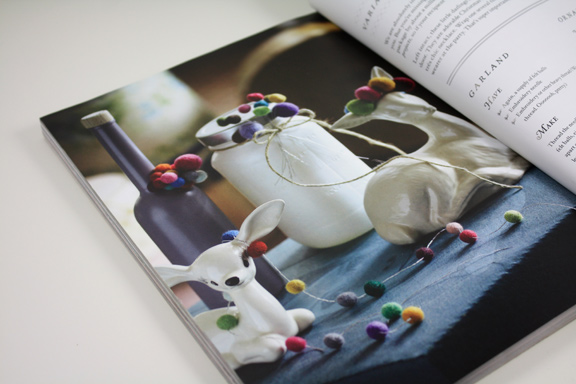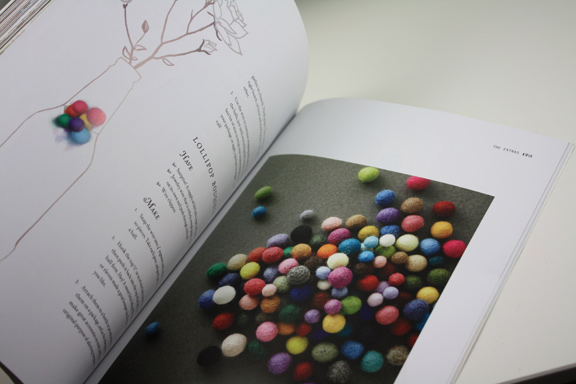 Once I'd made a little grouping of three, I walked around the house looking for something to attach them to and found our wreath. They would look really sweet as "berries" tucked into a wreath.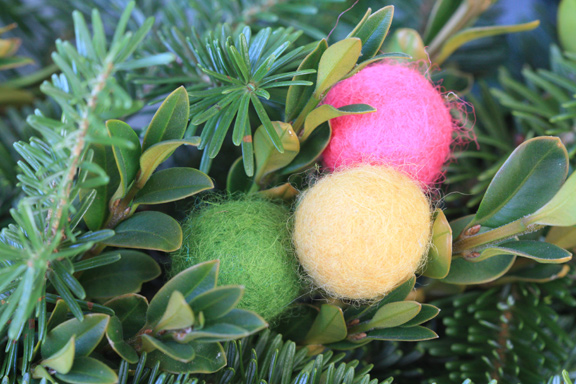 But then I saw that they looked a bit like balloons too and my older daughter is crazy about doll stuff, so I sneaked a Calico Critter out of her room and took this photo. I tucked the wire under and wrapped tape around it so the ends wouldn't be sharp. Oh, I wish I could just make miniature doll things all day long.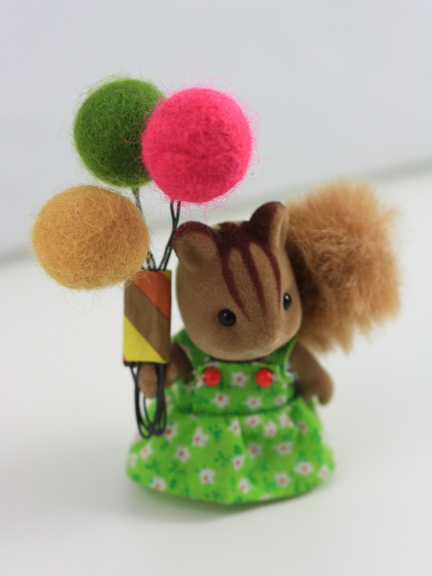 Be sure to post your own projects from Ruby Star Wrapping in the flickr pool here and if you don't have the book, go get it! Here's the full wrap-along tour schedule:
11.7.12 – Anna of noodlehead
11.9.12 Amanda of A Crafty Fox
11.12.12 – Elizabeth of Oh, Fransson!
11.14.12 – Brooke of Pitter Putter Stitch
11.16.12 – Erin of Two More Seconds
11.19.12  – Jennifer of BettyCrockerAss
11.21.12 – Rochelle of Lucky Lucille
11.23.12 – Sukie of Sukie – don't you know who I am?
11.26.12 – Elizabeth of Don't Call Me Betsy
11.28.12 – Gina and crew of Bolt Neighborhood
11.30.12 – Ellen of the Long Thread
12.3.12 – Katie of Swim, Bike Quilt
12.5.12 Faith of Fresh Lemon Quilts
12.7.12 Lee of Freshly Pieced
12.10.12 Maureen of Maureen Cracknell Handmade
12.12.12 Sara of Sew Sweetness
12.14.12 Colleen of The Busy Bean
12.17.12 Amy of Diary of a Quilter
12.19.12 Monica of Happy Zombie