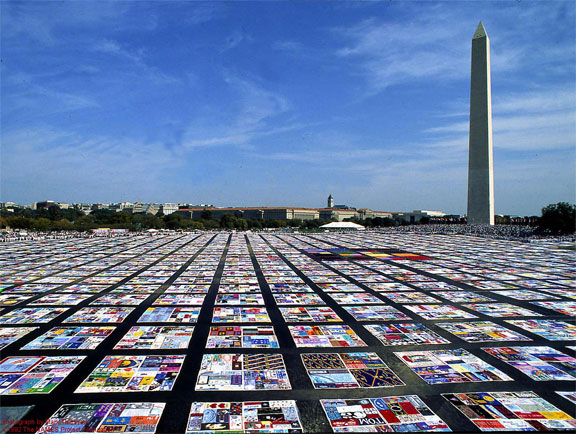 As I've been thinking about recent acts of activist stitching, it's natural to remember the largest community art project in history, the Names Project AIDS Memorial Quilt. Below is an excerpt from a speech by Cleve Jones, the creator of the project, when the quilt was displayed for the second time in Washington, D.C. in 1988. At this point, the quilt consisted of almost 9,000 panels to memorialize those who had lost their lives to AIDS, with each quilt panel roughly the size of a grave.
Today we have borne in our arms and on our shoulders a new monument to our nation's capital. It is not made of granite or steel and was not built by stonecutters and engineers. Our monument is sewn of fabric and thread, and was created in homes across America and wherever friends and families gathered to remember their loved ones lost to AIDS.

We bring a quilt. We bring it here today with shocked sorrow at its vastness and the speed with which its acreage redoubles. We bring it to this place at this time accompanied by our deepest hope: that the leaders of our country will see the evidence of our labor and our love and that they will be moved.

We bring a quilt. We have carried this quilt to every part of our country and we have seen that the American people know how to defeat AIDS.

In the past 15 months, AIDS has killed over 20,000 Americans. Fifteen months from now, our country's new president will deliver his second State of the Union address. On that day America will have lost more sons and daughters to AIDS than we lost fighting in Southeast Asia — those whose names we can read today from a polished black stone wall.

We bring a quilt. It grows day by day and night by night and yet its expanse does not begin to cover our grief nor does its weight outweigh the heaviness within our hearts.

The American people are ready and able to defeat AIDS. We know how it can be done and we know the people who can do it. It will require a lot of money and hard work. It will require national leadership. And it will require us to understand as a nation that there is no conflict between the compassionate response and the scientific response, no conflict between love and logic.

We bring a quilt. We hope it will help people to remember. We hope it will teach our leaders to act.
The impact of this project, sewn by many hands to memorialize thousands of lives, was felt deeply and helped influence government policy that had largely ignored the AIDS epidemic. The quilt was nominated for a Nobel Peace Prize in 1989. Unfortunately, panels are still being added to the quilt today, but it hasn't been displayed in its entirety since 1996. Sections of the quilt are exhibited regularly throughout the country. You can read more about the quilt at the links below or watch the documentary. This a reminder of the power of crafting for change.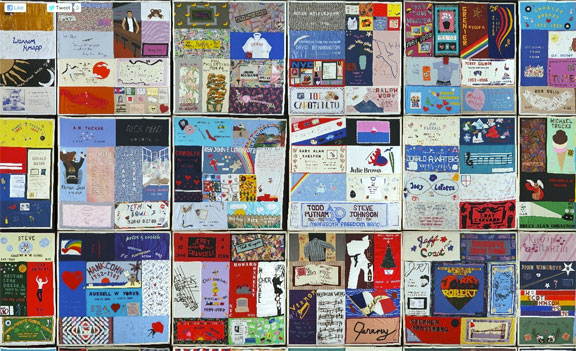 ---
How One Man's Idea for the AIDS Quilt Made the Country Pay Attention from The Washington Post.
When We Rise: My Life in the Movement by Cleve Jones.
Common Threads: Stories from the Quilt documentary.