Screenprinted Tote Bag Tutorial

Another guest post for wedding week! Kate from Needle and Spatula screenprinted tote bags for her wedding, so she's going to show you how she did it. Read below and then visit Kate's blog for the full tutorial. She uses drawing fluid rather than burning a screen, so there's less equipment needed and the process is a bit less daunting. There are some companies that will burn your digital image onto a screen as well, so you can explore that as an option as well.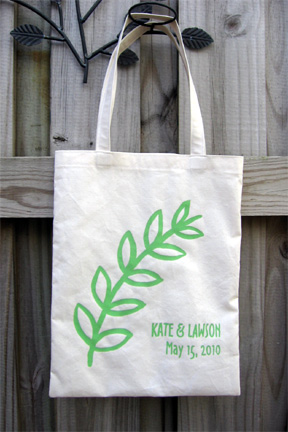 Hi, I'm Kate from Needle and Spatula, where I blog about my craft projects, including sewing and quilting, knitting, and other various crafts, as well as about vegetarian cooking, gardening, and other fun stuff.
I just love creating and am inspired by beautiful fabrics, all the great work I see on other blogs, and the natural world.  I have a number of sewing, knitting and crafts tutorials on my blog and I sell sewing patterns and handmade items in my Etsy shop.
I had lots of fun incorporating handmade elements into my wedding last year, and I am very excited to be sharing this tutorial for a screenprinted tote bag with you today! Click here for the full tutorial.

---
---