Book Review: Fanciful Felties
Recently I received some wonderful books for review from Stash Books, a division of C & T Publishing. I've been impressed with the books coming from them recently, including Scandinavian Stitches by Kajsa Wikman,  City Quilts by Cherri House and Little Birds, which is a compilation of adorable bird projects from some of your favorite crafters.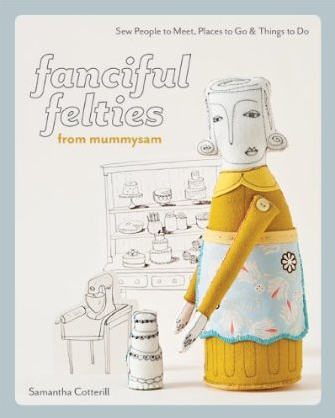 But the book that really caught my eye was Fanciful Felties from Mummysam by Samantha Cotterill. I've long been a fan of Samantha's work, combining free motion embroidery and hand-sewn elements to make whimsical creations. This book features 14 artistic softies with instructions and templates to make them yourself.
I love the way each project is photographed with a hand-drawn background, pulling us into Samantha's world of quirky characters and interesting objects. The book itself is clean and uncluttered, adding to the charming simplicity of the designs. The projects are straight-forward and may look intimidating at first glance, but I think they are quite do-able. She gives basic instructions for free-motion stitching and encourages you to do it on your own, as she says "A crooked line here and there won't hurt–it will give the project character and make it yours." This book inspires me to turn off the feed dogs and go do some drawing with my sewing machine. I think you'll agree.
Samantha also has an adorable line of fabric out from Robert Kaufman and some other interesting designs that she's selling in her Etsy shop. And if you live in New York, stop by Etsy Labs Craft Night tomorrow night, where Samantha will lead a workshop making a project from the book.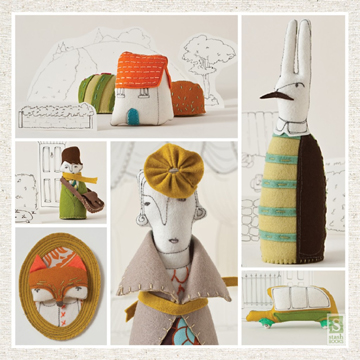 ---
---