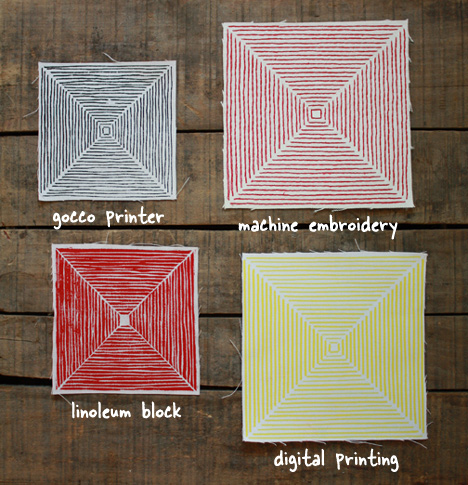 I thought I'd post a bit about what we discussed in our talk yesterday at Whipstitch Fabrics. Although I'm not a fabric designer, I talked about ways that people can make their own fabric designs through different techniques. It was interesting to hear Melody and Rashida talk about their design process and how they got started in fabric design since both of them are debuting collections in the next few months.
My own design process always includes preliminary sketching, then I may scan and trace the designs in Illustrator or start from scratch. I use a drawing tablet and then I may change formats or adjust sizes in Photoshop, depending on the end use of the design. So, yes, if you want to be a designer you may need software, but there are lots of other techniques you can use that don't require as much technical expertise. Here are a few that I discussed:
Fabric paint: Of course paint can be applied directly to the fabric and even watered down to create a more fluid look.
Fabric Dyeing: You can hand-dye your fabric to create the look you want. Whether you choose ombre, shibori, or good old tie-dye, dyeing can add a rich, vivid look to your projects.
Glue resist: This simple technique is great for creating a batik look without dealing with the messy and time-consuming wax process. See the tutorial from That Artist Woman and also see our auction project.
Freezer paper stencils: a simple way to create a design, but only works for one use. There are lots of online tutorials and project ideas, but you can see what I made a few weeks ago here.
Stamping: You can use rubber stamps with fabric paint, or even carve potatoes or use other fruit to make prints on your fabric. Rubber stamps are easy to carve and a simple way to transfer a child's drawing to fabric. Use a foam brush to apply fabric paint to the stamp. You can also use acrylic sheets and foam stamps to print on fabric.
Embroidery: Embroidery is always an option for personalizing your fabric, and is only limited by your imagination.
Iron-on transfers: You can easily add any printable artwork to a tee, tote or other project using iron-on transfer paper. I find it helpful to cut close to the design, then when the fabric is still hot, use a plain cotton fabric to press on top which will remove the shiny look from the design.
Linoleum block printing: You can also use linoleum to print on fabric. I've been doing a lot of experimenting with different inks and types of linoleum, but so far oil-based ink works best. Though oil is not eco-friendly and takes 2 weeks to cure, it does clean up with vegetable oil.
Wood block printing: Similar to linoleum, the ancient technique of wood block printing leaves an interesting print on fabric and there is a nice selection of vintage blocks on Etsy.
Gocco mini-silkscreen printing: I love my print Gocco, but they can be hard to find and the supplies are pricey. You are limited by the small print area, but it's a simple process. Tutorials here, here and here, but I use a different process for fabric  by burning the screen with the Gocco and then using a squeegee to print the fabric.
Silkscreen printing: Silkscreen printing is the ultimate way to make a clear, crisp and detailed design on fabric or paper. But burning the screen can be an involved process. Now there are companies that will burn screens for you, or you can try using a screen with a stencil, as shown here. Here is a good screenprinting video tutorial, and here's an interesting technique to make a screen print with fabric and an embroidery hoop.
Digital Printing: The number of online printing services continues to grow, but includes Spoonflower, Fabric On Demand, Karma Kraft, and Eye Candey. You can find a nice comparison of the services and options at each of these on True Up here, with an updated follow-up post here.
Here are a few of my favorite books that discuss fabric printing techniques: