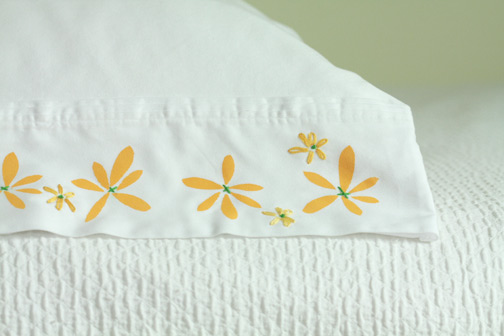 I just bought some organic sheets for the girls' beds, but wanted to add something sweet to the plain white. So I used a freezer paper stencil and some embroidery to make these cheerful daisies. I've been inspired a lot lately by Vera Neumann prints. Here's what you'll need:
daisy template
painter's tape
craft knife
cutting mat
pillowcases
freezer paper (found at the grocery store)
iron
fabric paint
foam or stencil brush (I use the end of a foam roller)
scrap cardboard or plastic
embroidery floss in yellow and green
embroidery needle
If you've never made a freezer paper stencil before, you'll find that they couldn't be easier. Just print out the template, cut into two rows and tape it on top of the freezer paper on the cutting mat. Cut out the design with a craft knife, as shown below. Press the shiny side of your freezer paper to the pillowcase edge with a hot iron (no steam). Place scrap cardboard or plastic inside your pillowcase so that your paint doesn't bleed through. Then paint your design, wait a minute, then carefully peel off the freezer paper.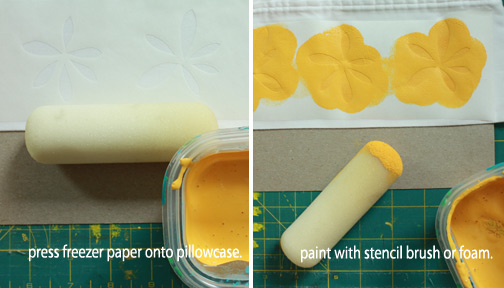 Allow the paint to dry for at least 24 hours, then start the embroidery. I used a lazy daisy stitch, french knots and a simple cross stitch. If you aren't familiar with these easy stitches, there are lots of video tutorials for the stitching available on YouTube (here and here). I made my daisies a bit wonky to match the stencil design. You could also use this stencil for curtains, bags, skirt hems, dish towels, aprons or whatever you can imagine.