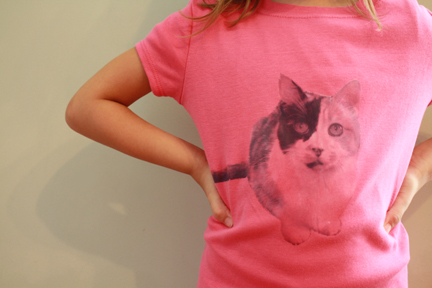 I saw some super-cute pet tees at Mini Boden and decided to make some of our own with a photo of our cat Kiki.
The hardest part of this project was getting the cat to pose. I used Photoshop to edit the pictures, but perhaps you could use another free photo program? I looked at a couple of tutorials for extracting an image from a background here and here. Then I brightened up the photo, desaturated it, added some color and flipped it to print in mirror image. I printed the image on iron-on transfer paper (available at office supply stores), pressed it onto the fabric and voilà — a custom pet tee! I'm thinking of embroidering around the edge, maybe with some silver thread on the one above since this is my glamour girl. And they would definitely be cute worn over striped tees like the Mini Boden shirts.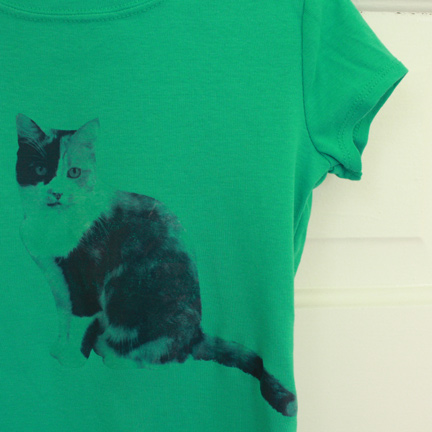 Here's the other one that I made for my older daughter. The kids picked out the colors and the pose. And of course this kid wouldn't model for me. She's apparently seven going on seventeen. Such attitude, but I think she actually likes the shirt.
Here's the progression of the images: