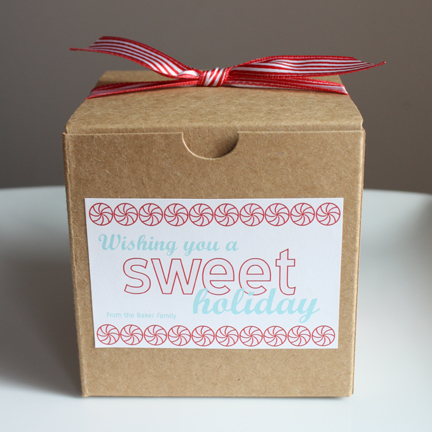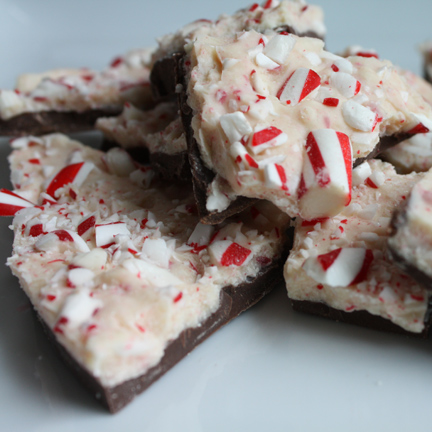 I had never made peppermint bark before, but found it to be simple and the kids had great fun smashing candy canes. When I went to the store yesterday, I discovered that the white chocolate bark had some questionable ingredients, so I headed to Whole Foods and bought white and milk chocolate chips, which I think worked out really well. Here's the recipe for one cookie sheet of peppermint bark. This made enough to send to four teachers and both of our neighbors.
I am including a downloadable page of labels so you can have instant gifts! Click on the image below and print the sheet of labels on card stock or sticker paper.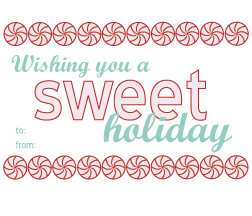 Peppermint Bark Recipe
24 ounces white chocolate chips
24 ounces milk chocolate chips
1 teaspoon peppermint extract
20 candy canes
Preheat oven to 250 degrees. Line a cookie sheet with aluminum foil and spray with cooking spray.
Pour the milk chocolate chips onto the pan and spread them around. Bake for a couple of minutes until they look a bit melted. Then take the pan from the oven and spread the chocolate around with a spatula. Put the pan in the refrigerator to cool and harden for about 30 minutes.
Next open the candy canes, place them on a cookie sheet under a clean dishtowel and crush them with a hammer (this part is fun for kids). Sort the larger candy cane pieces from the candy cane dust.
Melt the white chocolate chips in a double boiler (I used a smaller pan in a bigger pan), stirring constantly. Add the peppermint extract and stir in the candy cane dust which will color your chocolate a light shade of pink. Let it cool a bit, then pour it over the top of your milk chocolate layer.
Sprinkle with candy cane pieces and press them down gently so that they stick.
Refrigerate for several hours, shake off the excess candy pieces, then break the bark into chunks. Best kept refrigerated.