Etsy Finds Friday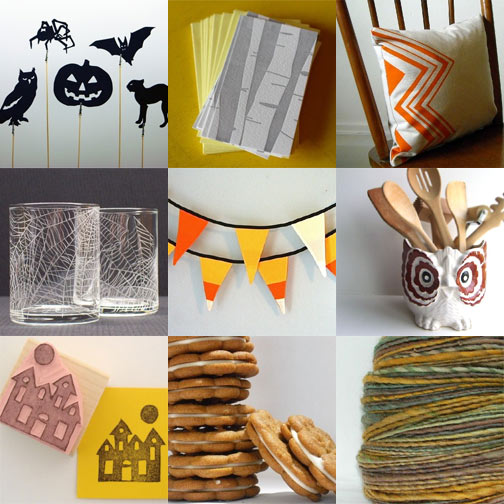 Boo!  Welcome to October.
All Hallow's Eve Shadow Puppet Set, $30 from Orange Moon Toys.
Modern Aspen Letterpress Cards, set of 10 for $11 from Dingbat Press.
Mini Mile End Pillow, $20 from hazel and hunter.
Hand Engraved Glass Candle Holders, set of 2 for $14 from Daydreem Designs.
Candy Corn Halloween Bunting, $30 from pamwares.
Vintage Owl Utensil Holder, $25 from Sweet Love Vintage.
Haunted House Hand Carved Rubber Stamp, $8 from Cupcake Tree.
Ginger Spice Cookies, $9 per dozen from Lynsey & Harper Confections.
Fallen Leaf Handspun Yard, $24/140 yards from Simply Twisted Yarn.
---
---