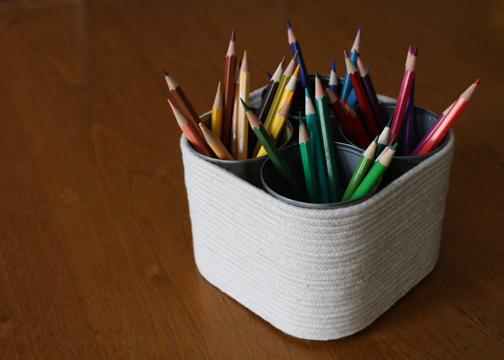 Today we made this caddy to hold the ever-growing supply of kid's art materials.  Made from clothesline and recycled tin cans, it's an easy and inexpensive solution.  You could use this caddy to hold various art supplies like we did here, or you could put it in the center of the table to keep utensils handy.  And I'm sure you could think of other uses.  We used four cans, but you could use more or less for your project.  You could also add a braided rope handle.  Here's what you'll need for the project:
cans
pliers
clothesline (I bought mine at a fabric store, but I think you could pick this up at a hardware or even the grocery store.  The plain cotton kind is best if you can find it.  A package of clothesline should make it through several projects.  I've been using mine for little backpacks like this one.)
glue gun and glue sticks
scissors
masking tape
Wash out four tin cans.  Flatten any protruding metal with the pliers.
Using the glue gun, put some glue toward the bottom of the cans to hold them together, two at a time.  Allow the glue to harden.
Wrap masking tape around one end of your clothesline.
Using the glue gun, glue the end of the clotheslin in place at the bottom of one of the cans (not the underside).
Wrap around the cans, pulling the clothesline as you go.  Add a bead of glue when you get back to your starting point and continue to wrap it around, pushing down to keep the clothesline together.  Continue until you get to the top.
Leave a tail 2″ long.  Wrap the tail end with masking tape, add some hot glue and tuck it in between the cans so that it sticks in place (see photo below).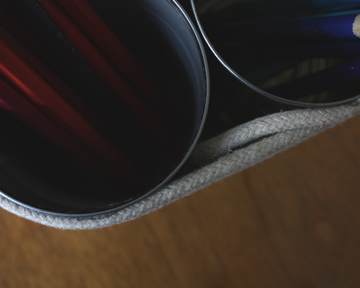 If you make one of these, add your photo to the Make it Monday Flickr group here.