Summer Reading Craft #3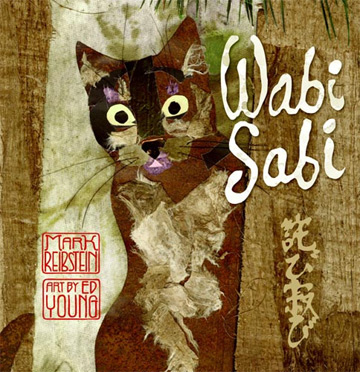 This week we read one of my new favorites, Wabi Sabi by Mark Reibstein with illustrations by Ed Young.  It's the story of a Japanese cat named Wabi Sabi searching for the meaning of her name.  She comes to discover that wabi-sabi is the simple, imperfect beauty that can be found all around us.  Its meaning might be complex for a young child, but I continue to be inspired by the book each time we read it and feel that the story offers a meaningful idea.  And since wabi-sabi is an essential element of handmade goods, I think it's an apt concept for this blog regardless of your age.  Here is an interesting explanation of its meaning.
The story is beautifully written with a lovely haiku on each page.  Ed Young's illustrations carry on the wabi-sabi philosophy with collages that include natural and everyday objects, humbly and beautifully woven into the work with an amazing sense of composition.  His final images for the book had to be created quickly because his original designs were lost while he was also undergoing a personal tragedy (you can read more about it here).  So Young changed his process and used splattered paint, magazine clippings, pine needles,  origami papers, cardboard and other found materials.  Take a look at this video interview with both author and illustrator here.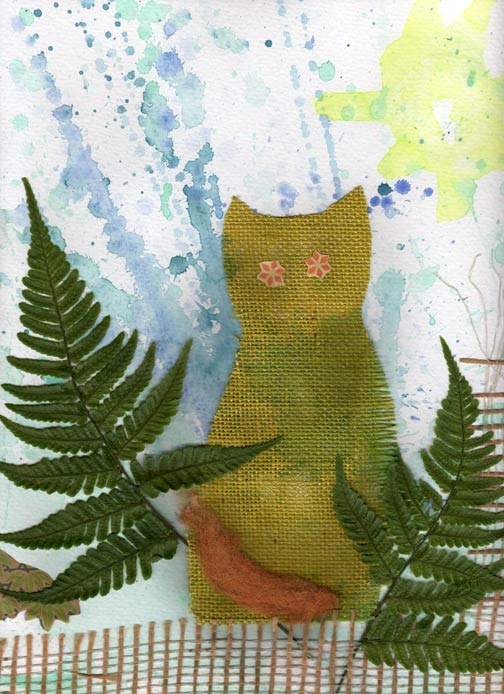 For our kid's project, we read the book again and talked about the images while the children guessed how they were made.  We collected textured materials from around the house and in the yard including burlap, wool felt, bits of a rug pad, fern leaves and patterned paper.  My four-year-old enjoyed the splatter painting with watercolors, then she and I worked out the composition, cut the shapes and glued everything in place.  Then my six-year-old, who didn't want to participate, came in and said that it wouldn't be right until we scanned it into the computer and printed it out as a flat image.  She was right.  You can see the scanned version above.  Then she even began working on a collage book of her own while the four-year-old made a collage doll from scraps of paper.  It's always interesting to see where new ideas take them.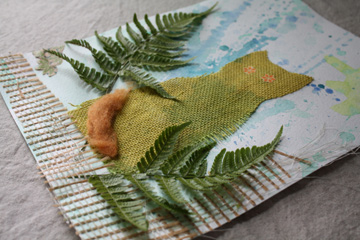 ---
---