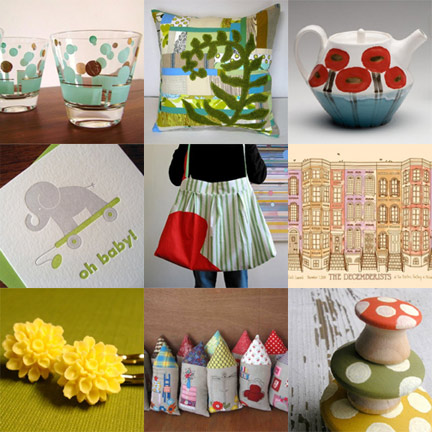 Vintage Fred Press Cocktail Glasses, set of 7 for $42 from High Street Market.
Patchie Plays the Fiddlehead Pillow, $48 from umber dove.
Poppy Teapot with Turquoise, $80 from dahlhaus.
Oh baby! Letterpress Card, $3.50 from anemone letterpress.
The Poppy Bag, $65 from the sea within.
The Decemberists Handprinted Poster, $25 from Jen Skelley.
Pale Yellow Blossoms Bobby Pins, $7.75 from pandacub.
House Pillow, $39 each from LeiLiLaLoo.
Wee Woodland Mushrooms, set of 3 for $6 from wee wood.