More Cereal Box Journals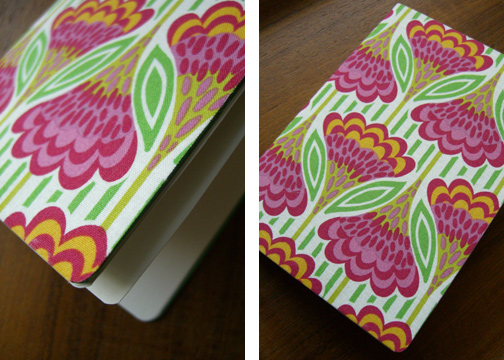 So I loved the plain journals, but thought that a more decorative journal might make a nice gift. I made one with fabric and one with paper.  The fabric covered version (pictured above) will be a gift for my mother-in-law with some photos of the children.  I used three sheets of card stock rather than paper, which will hold six photos.  I also lined the inside with green paper.  I first cut the cereal box down to size, then cut the fabric about 1/2 larger.  I sprayed the adhesive on the cardboard and pressed down the fabric.  Then I trimmed the excess with a rotary cutter and made the rounded corners with scissors.  I added some Fray Check to the edges to keep it from unraveling, which seems to be working.  I have never used this before, and it's likely toxic.  My older daughter said to the younger one "Look, ear drops for you."  Glad I was in the room.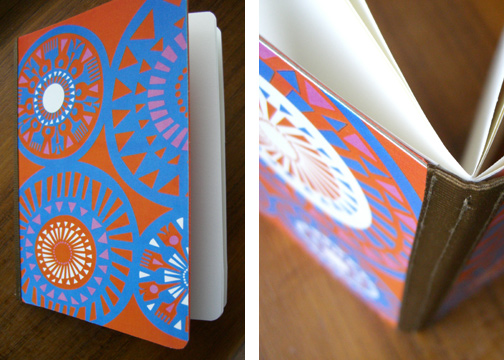 The second journal is covered with paper from a Marimekko catalog and I affixed it with spray adhesive also.  The color on the glossy paper stretched some when it was creased, so I added a grosgrain ribbon binding, which I wrapped around the inside.  I sewed down each side, then added the paper and sewed in the center.  It was a little tricky to get it straight, but I taped it in place.  The inside is lined with orange paper.
And, to solve the issue of having the papers not aligned when you fold the book:  Stagger the papers, as shown below.  Then cut the other end straight across with a paper cutter.  Then arrange arrange them so that they are evenly fanned out on either side, with the slightly shorter papers on the inside on the book and the longer ones by the cover.  Does that make sense?  You still need to cut all your papers a bit shorter than the cover because cardboard is thicker than paper, so takes up more space in the bend.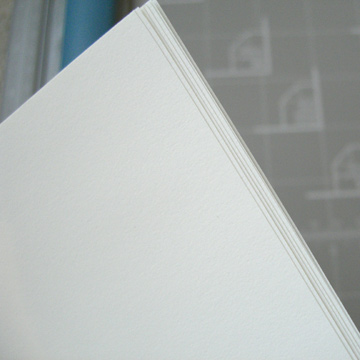 ---
---