Cereal Box Journal

Here's a quick and easy way to re-use a cereal box and make a useful journal from it. Ever use the Moleskine notebooks? I love them, so thought I'd make some of my own with materials that I had around the house.  There are lots of possibilities for this project. You could stamp or print the cover, paint it, add a collage or a simple drawing, or use decorative paper to cover the inside. This would also make a fun project for the kids – they could decorate the covers and write a story.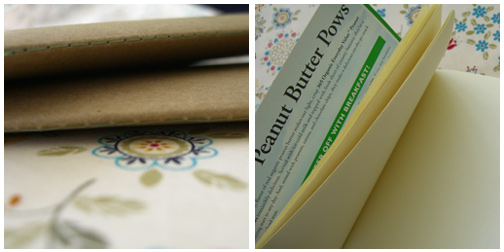 I made this on my sewing machine, but I can't be held responsible for broken needles! I set the tension to a very low setting and made the stitch long. I used 8 pieces of paper (for a 16-page journal) and wouldn't recommend many more than that.
Supplies:
cereal box
paper (recycled or handmade would be even better)
thread
rounded corner punch
paper cutter
painter's tape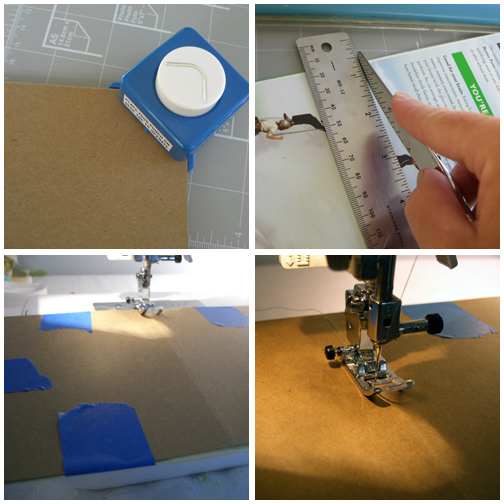 Step 1: Cut cardboard box down to desired size. I made mine 10"x7" (for a 5"x7" journal).
Step 2: Cut journal paper down to size as well. You might want to deduct 1/8" to make sure the paper folds nicely into the inside of the journal.  (see this next post for more instructions about this).
Step 3: Round corners with the corner punch.
Step 4: Score cereal box cover down the center until it folds crisply. I used a utensil knife and ruler to do this.
Step 5: Place cardboard (plain side up) on top of paper and tape together with painter's tape.
Step 6: With sewing machine tension set to low, slowly stitch long stitches along the scored line.
Step 7: Fold over and place under a heavy book  to press flat.
---
---