Halloween Luminary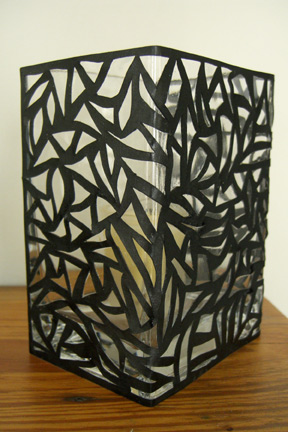 I've been seeing a lot of nice decoupage projects lately, so thought I'd give it a try.  I used an abstract design for this, but I think it would be great with a spider web, bat or owl.  This project would also be nice in white for the winter holidays.  I didn't have a piece of paper long enough to cover the entire vase, so I wrapped three sides.  It would be interesting to create a design on the back side so it will cast a reflection onto the wall.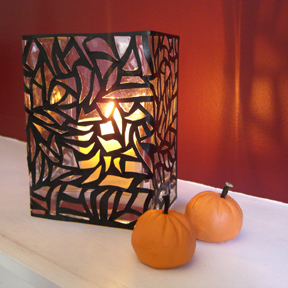 Supplies:
Black card stock
Measuring tape
Candle holder or vase (preferably cylindrical or rectangular)
Decoupage glue
Craft knife and cutting mat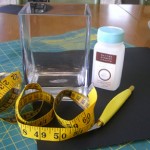 Step 1:  Measure your vase or votive holder.  Cut paper to the correct width and length.
Step 2: Using your craft knife, cut random abstract shapes over the entire sheet.
Step 3: Brush a very light coat of decoupage glue onto the back of the paper.  Center your paper and carefully adhere it to the glass.  Press down all areas.
Step 4: Brush over the entire candle holder with a thicker coat of decoupage glue.
Done!  If you make this project, please be sure to post a photo to the Make it Monday Flickr pool here.
---
---