Etsy Finds Friday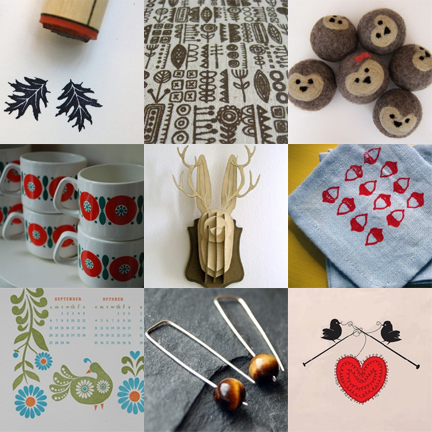 Black Oak Leaf Rubber Stamp, $3 from Norajane.
Totem: Hand Screenprinted Fabric, $6.50 (9.5″x14″), from summersville.
She-Hedgie Hedgehog Ball, $10 from Beneath the Rowan Tree.
Anfora Teacups, set of 6, $30 from Peacock Modern.
Wooden Jackalope Head, $55 from trees with knees.
Gocco Printed Coasters, set of 2 for $8 from feltcafe.
Folky 2009 Letterpress Calendar, $30 from dutch door press.
Tiger's Eye Earrings in Sterling Silver, $24 from kusu.
Knitting Love Birds Natural Tote Bag, $10 from Rainbow Swirlz.
---
---