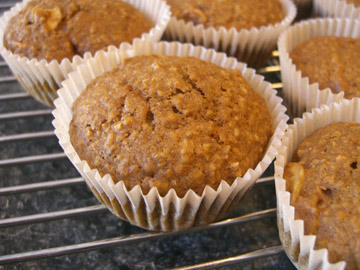 Fall food is the best.  Here's a recipe full of fall flavor that I've been tweaking for a few weeks.  Makes 24 regular-sized muffins.  I think golden raisins and walnuts would be a great addition.  I think I might try this in a loaf pan too.
Preheat oven to 375.  Mix in a large bowl and then set aside:
2 small apples, diced
1 cup unsweetened apple sauce
1/4 cup apple juice
1 cup oat bran
1/2 cup vegetable oil
2 eggs
1/2 cup brown sugar
1/4 cup molasses
In a separate bowl, mix:
1 cup wheat flour
1 cup unbleached white flour
1 teaspoon baking soda
2 teaspoons cinnamon
1/2 teaspoon allspice
1/4 teaspoon salt
Blend wet and dry ingredients together.  Scoop into greased or lined muffin pans and bake for 15-20 minutes at 375 degrees, or until toothpick comes out clean.  Enjoy!