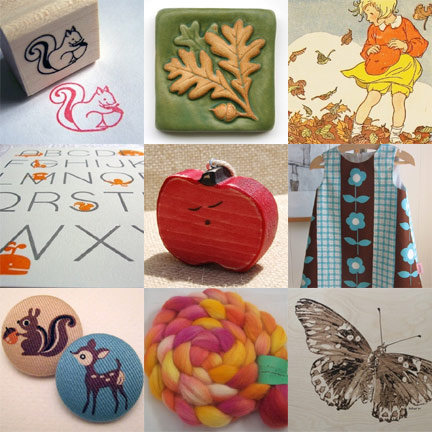 Happy Squirrel Rubber Stamp, $4 from nikoart.
Oak Leaves & Acorn Tile, 3 3/4″ x 3 3/4″, $28 from Gretchen Kramp.
Playing in the Leaves, set of 4 vintage illustration notecards, $14.50 from Stories and Divinations.
Letterpress Alphabet Poster, $30 from Sycamore Street Press.
La la la Singing Apple Ornament from woodmouse, $10.
Picnic 3T Dress, from mette, $40.
Fabric Button Brooch, $3 from Meeting Street Designs.
Wool roving, $15 from Spindlefrog.
ACEO Butterfly from Wood by DeRaud, $6.