Flower Pot Pincushion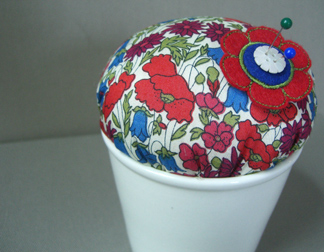 I thought I'd try to make one of the little pincushions in a flower pot that I've seen lately. It requires no sewing! Ha, but you probably won't want to make one of these unless you like to sew. I added a little felt flower (like the hair clips I wrote about in my last post) and a button. And I used this Liberty of London fabric again. There's still some left, so you're sure to see it more!
Supplies:
small flower pot
fabric scrap
polyfill stuffing
hot glue gun
rubber band
Cut fabric about three times the width of the top of your pot. My pot was 4″, so I cut a 12″ square.
Place some polyfill in the center and wrap loosely with a rubber band.
Continue stuffing with polyfill (as much as you possibly can, and then some).
Wrap rubber band around a few more times to tighten it.
Adjust fabric evenly and try it out in the pot.
Glue all around the inside of the pot, about an inch from the top. Quickly stuff in your fabric.
All done! If you make one of these, be sure to post a photo over in the Make it Monday Flickr photo pool. Check out these flower pot pincushions from Betz White for some more inspiration.
---
---