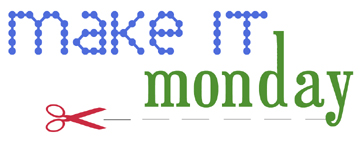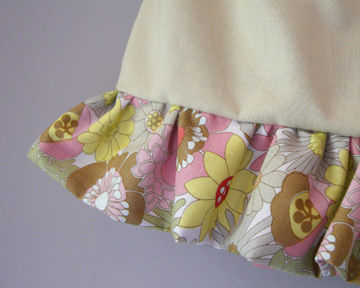 There are lots of girl's skirt patterns out there (like here and here), but I made these the other day and thought I'd post the pattern since they were super simple and quick. My girls love the ruffles, but one is really enough for me to gather and sew.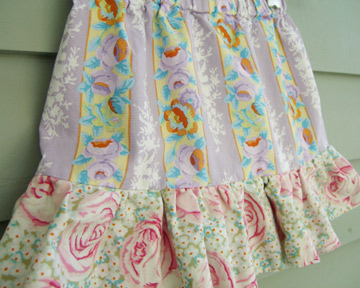 Our children are tiny, so it's difficult for me to gauge sizes, but the instructions below are for a small size 3 (European size 90). I added about 2 inches to the ruffle for my five-year-old, making the skirt 1″ longer (shown in second photo). The pattern below makes a pretty short skirt (about 9 1/2″ from waist to hem), so you might want to measure your child and adjust accordingly.
Supplies:
About 1 yard of fabric or 1/2 yard each contrasting fabrics
3/4″ elastic (about 20″ or so, depending on child's size)
matching thread
Step 1: Cut fabric
Cut 2 each: 9″ x 15″upper part of skirt, 6″ x 30″ ruffle. Turn on your iron.
Step 2: Make side seam and Waistband
Sew upper skirt pieces, right sides together to create one of the side seams. Finish inside raw edge of seam*.  Sew overcasting stitch on bottom raw edge of fabric.
At the ironing board, fold down top edge 1/2″ towards the wrong side of fabric, press and fold again 1″ to create the opening for elastic, as pictured below.

Sew in place. Measure child's waist and cut elastic accordingly. Use a safety pin to feed elastic through the waistband:

Then pin at both ends to hold elastic in place for the next step. Optional: If you want to ensure that the elastic will not get twisted, you may sew it in place. Sew in the center of the waistband, pulling the elastic taut from the front and back as you sew. Pictured below.


Step 3: Make Ruffle
Fold each ruffle piece in half lengthwise (wrong sides together) and iron or pin in place. Sew together with 1/4″ seam and finish raw edge. Then sew two ruffle pieces together to create one long 60″ strip of fabric. Use a basting stitch to create gathers, being sure to leave extra long bobbin threads on both ends. Pull bobbin thread gently from one end then the other to create gathers. Pin in place on the skirt, right sides together and upside down (as shown below), starting at the center seam and working your way out. Adjust the gathers as you go.

Step 4: Finish
Sew remaining side seam, right sides together from the bottom of the skirt to the bottom of the waistband. Then sew elastic together with a zigzag stitch. Fold fabric edges of opening under and topstitch in place. Finish inside seam.
Done!
*When my instructions say to "finish" a seam, I mean to finish the raw edge of the fabric with an overcasting stitch after sewing the seam to avoid fraying. I often use a heavy overcasting stitch to join my fabrics and finish the edges at the same time. If you have a serger, lucky you!
As always, patterns posted on the long thread are for your personal use only. See licensing information at the bottom of this page. Thanks!
Be sure to upload your photos to the Flickr Make it Monday group.  I love to see what you create!