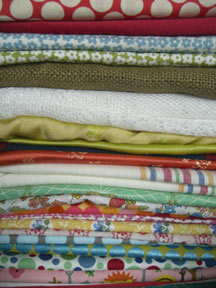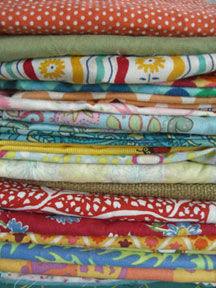 I am still cleaning out and moving my sewing room to make way for our master bath.  So I have some fabric to unload.  The photo on the left is of the larger scraps — quarter yards, half-yards and a few full yards.  On the right are the smaller scraps.  There's fabric here from pretty much all of the projects I've made in the last year.  Some Liberty of London, Amy Butler, Kaffe Fassett, etc.
So if you want to add to your fabric collection, please leave a comment here and I will choose a number randomly.  Deadline for entering is Monday (July 28) at midnight Eastern time.  I'll ship anywhere in the United States or Canada.  Thanks for helping me clean up!
UPDATE TO THIS POST: The fabric give-away is now over.  Thanks for entering!