Piecing Together Inspiration
It's still March! The past month has been packed with travel, first to QuiltCon in Savannah at the end of February, then a trip to Paris with the kids for spring break, and finally a visit to my hometown in Alabama to lead a quilt workshop. It's been a thought-provoking intersection of culture and quilts that has caused me to reflect on the myriad sources of our creative inspiration.
Star Puzzle, 2001, by Nora Ezell (American, 1919–2007).
The exhibition Sewn Together: Two Centuries of Alabama Quilts at the Montgomery Museum of Fine Arts has a lovely website where you can explore the quilt pairings for comparison, consider the themes highlighted in the written descriptions and the race, gender, and class implications that are hard to ignore in the subtext. Most of the quilt pairs feature the work of a modern African-American quilter contrasted with a quilt attributed to a white quilter from the 1800s and early 1900s.
In my research, I read Nora Ezell's beautifully personal quilt diary, My Quilts and Me: The Diary of an American Quilter, which details her process and emotions. Her thoughts range from the weather to anxiety and loneliness, and include some fabulous gems about quilting. As she makes commissioned work, she writes charmingly earnest letters to the future quilt owner, and also documents the painstaking hours spent on each aspect of the quilt, as she hand sews every stitch despite debilitating arthritic pain. It's an insightful look at her creative process, including her vacillating self-doubt and self-assurance. I highly recommend this book if you can find a copy.
Although many quilt historians have attempted to trace the roots of these innovative quilts, pinpointing a single source of inspiration remains elusive. When reflecting on another exhibition from 1994 that connected the work of modern African-American quilters to textile patterns from Africa, Ezell writes:
"I never say a lot about Africa or about the quilts that represent it. That is because I don't know. My mother made beautiful quilts and embroidery, but she did not teach me. My style and my patterns are my own."
It's simplistic to draw a straight line through history to determine the influence of a maker. Since quilting has a history based in pattern replication, sometimes we can see obvious inspiration, but every quilt is as unique as its maker. In my own experiments, I've been thinking about our cultural inspirations — the abstract, bold emotional beauty of Gee's Bend quilts alongside the emphasis on technical skill and precision popular in European quilting traditions. After attending QuiltCon for the first time this year, I see the tension of technical skill and creativity still at odds in the contemporary quilt world. There were quilts with large abstract shapes, wonky piecing, and hand-stitching as well as technically impressive quilts covered with intricate computerized machine quilting. I wonder how these disparate styles will continue to coexist as the modern quilt movement evolves.
---
Fabric Experiments
I've been doing more experiments with fabric. Here is damask painted with neon textile paint.
Then I made a strip pieced experiment with painted fabric and vintage lace.
---
March Tutorial: Strip Piecing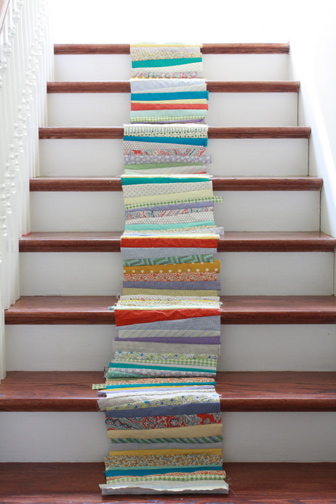 From the archives. Get the tutorial to use strip piecing to make crossed quilt blocks.
---
Links
Should Art That Infuriates be Removed? from the New York Times.
Sewn Together: Two Centuries of Alabama Quilts, exhibition from the Montgomery Museum of Fine Arts and the Alabama Department of Archives and History.
Found Photographs Embroidered With Colorful Thread by Julie Cockburn featured on Colossal.
Are you a textile technique addict? from Textile Artist.
Kim Werker's Action + Craft weekly newsletter with ideas and inspiration to craft for change!
---

Over the weekend I taught a Words of Empowerment kids' embroidery workshop at seed factoryhere in Atlanta. I'll be doing a few different workshops for kids of all ages in the coming months, so stay posted by following seed factory on Instagram.
Thanks for reading! –Ellen