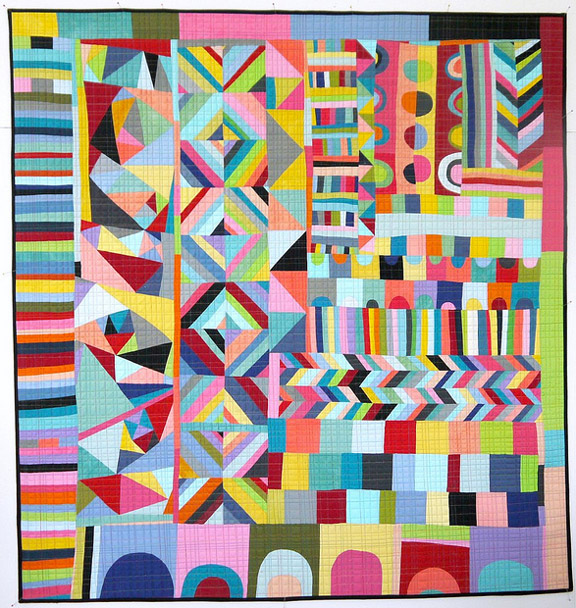 Lucie Summers of Summersville made this amazing quilt. Not sure what's going on with these English women, but they are making some beautiful quilts these days. Although I think she started out with a bit of a plan, Lucie used an improvisational, piece-as-you-go method for making this quilt. I am loving improvisational quilts these days. As I'm working on 1, 2, 3 Quilt, I realize that I hate making the same block over and over again. Whether it's due to a short attention span or the need to make instinctual decisions, these quilts have a more emotional appeal to me. Lucie's quilt reminds me of the abstract, often geometric paintings of Stuart Davis, who was strongly influenced by the free-form nature of jazz.
She started with this block below. You can see her progress as her quilt evolved on her blog here. I also love her choice of quilting random lines, and think it works really well with the top piecing. I love quilting that enhances the design of the patchwork, and I'm often distracted when there's another layer of pattern that fights the quilt top layout.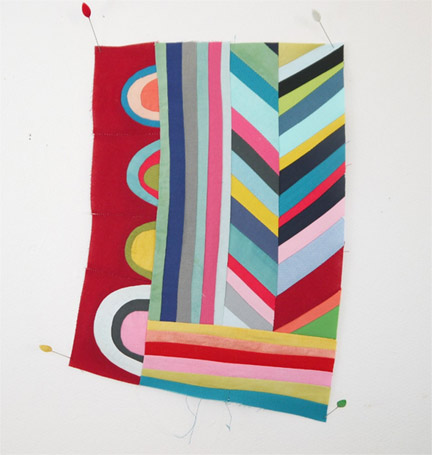 Lucie has a new line of quilting cottons that will be available in April. I've always been a fan of her screenprinted fabrics, so I can't wait to use these.