As I mentioned in my post yesterday, I'll be talking about fabric this week as I'm collecting it for my upcoming book, 1, 2, 3 Quilt.
Today I'm going to talk about vintage and feedsack fabrics. If you're unfamiliar with feedsack fabrics, the term refers to the use of grain and livestock feed sacks used out of necessity to make clothing, from the early 1900s until around the 1950s . At first, the manufacturers of feed sacks printed plain cloth with just their company name, but as women began making these sacks into clothing, the grain companies started adding prints to the fabric. You can read a brief history of the fabrics in this post by Linzee McCray on Etsy's blog.

What is now commonly called "feedsack fabric" often refers to the style of these prints, rather than the original fabric. But sometimes you might find an intact sack or a clue that your fabric was once used as a sack. The fabrics pictured above were purchased from here and there and I can't be sure of their origins, but I love the style. In addition to a looser weave, feedsack fabrics used floral and geometric designs. Some of the designs can actually appear quite modern and I love the sweet florals as well. You'll also see lots of new prints reminiscent of these feedsack designs, most notably in Denyse Schmidt's fabric designs. And you can also find fabric manufacturers who are directly reproducing the vintage prints.
What I love about this fabric style is the reminder that people made beautiful things out of necessity, rather than as hobby. I find that incorporating vintage fabrics into a new design pulls things around full circle for me and adds meaning to a project.
Here's the Circles Floor Pillow project from my book 1, 2, 3 Sew where I used a selection of vintage, reproduction feedsack and Liberty prints. Yes, this pillow has reverse appliqué with unfinished edges because I love the look. I do recommend in the book, however, that if you are making this project for everyday use, you should machine stitch around the perimeter of the circles for added durability.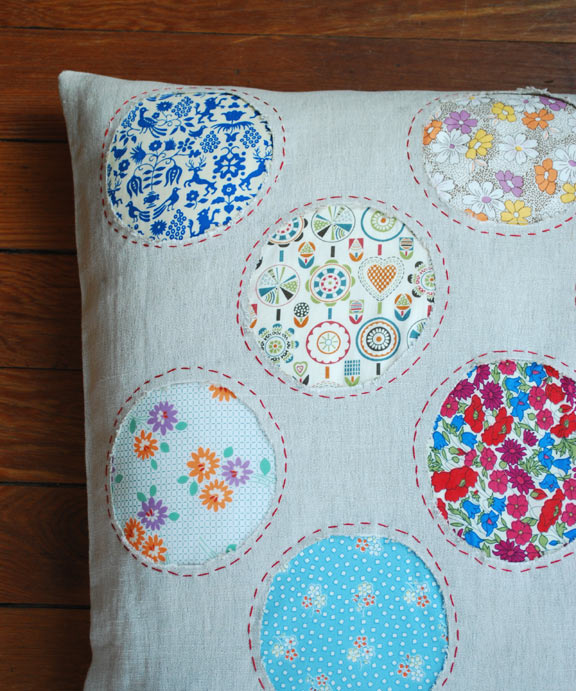 Photo by Laura Malek.