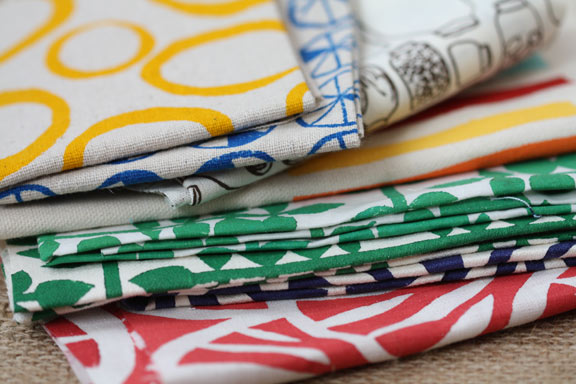 Since I've started working on 1, 2, 3 Quilt, I've been doing a lot of thinking (obsessing) about fabric. While I love many of the designer fabrics on the market, I worry about using them in a book that won't come out for another year, when the fabrics will be gone from stores and left as a distant trend memory from 2012. I'd really like to see more fabric companies put out basic lines with lasting designs. When I'm making a quilt, I don't want to look back on it in 10 years and remember the fabric collection or designer, but rather the design and love that went into the quilt's making. This is certainly not to knock designer fabric, especially since I have my own collection coming out in a few months! But I wonder if this is a sustainable way to market fabric. It seems to me that the market is saturated and we're constantly inundated with new collections. I just wonder if there is a better way.
Anyway, this week I thought I'd share some of the fabrics I'm using in the book. I love hand printed fabrics. Love the texture, the imperfect quality and the hand of the maker that went into the process. Above are some fabrics from Summersville, Bespoke Uprising, one I printed myself and a few from Home Sweet (one of my new sponsors). I'm still collecting fabrics for the book and hand printed fabrics are on the top of my list, though obviously more expensive. So I cherish every scrap! My Quilt Blocks collection was definitely influenced by hand printed fabrics. Many of the designs are a single color printed on a white background and all of them have a degree of imperfection. I designed the entire collection with perfectly straight lines and symmetry, then went back and changed it all to make it imperfect, giving it a more handmade feel.
Here are some of my other Etsy favorite shops for handmade fabric, both block and screen printed:
And I love to search Etsy for hand-printed tea towels. You can read my post here about printing your own fabrics with some basic methods that anyone can do at home.
Oh, and I also wanted to include this photo from 1, 2, 3 Sew of the Set The Table Runner. This is perhaps my favorite photo from the book. Photo by Laura Malek. Fabric by Jenny of Home Sweet. She is offering a 15% discount to readers of The Long Thread. Simply enter the code "longthread" at checkout.