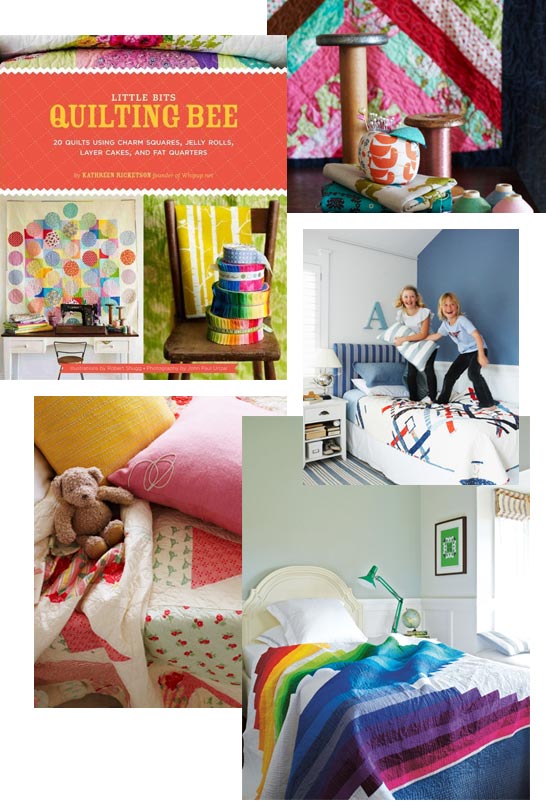 Today, The Long Thread is the first stop on the Little Bits Quilting Bee blog tour! Hurray! Fellow Chronicle author, blogger, digital kids' craft magazine producer and mother Kathreen Ricketson has produced what I think is her best book yet. Little Bits Quilting Bee: 20 Quilts Using Charm Squares, Jelly Rolls, Layer Cakes and Fat Quarters features 20 handmade modern quilts using pre-cut fabric bundles for the busy quilter. I love this idea. Sure, I know some of you die-hard quilters find using pre-cuts akin to cheating, but why waste all that time cutting with so many fabulous pre-cuts available? You can't argue with simplicity. With this book, Kathreen gives you many creative ideas to make these pre-cuts into your own unique creations.
The projects are grouped by pre-cut size and ranked by level of difficulty. I think there's something in this book for both new and experienced quilters. She includes the basics with cutting tips, basting instructions and binding methods. The colorful photographs, vibrant fabrics, and charming vintage-modern styling give this book a warm and inviting feel.
I didn't have time to make a full quilt from the book yet, but I did make this pillow using the pattern for the Garnets and Gold quilt in the book. It took four blocks and came together quickly. I used solids for my pillow below, but Kathreen's quilt in the book uses all kinds of beautiful jewel-toned patterns for a rich look.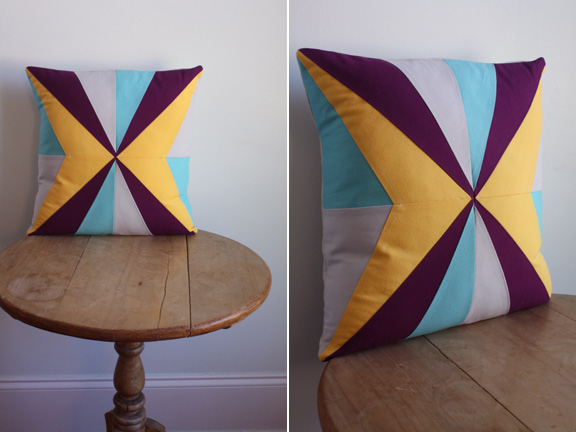 And a giveaway! I'll send a copy of the book to someone in the U.S. or Canada. Please leave a comment below by midnight eastern Thursday for a chance to win. I'll choose the winner at random and make the announcement on Friday. Thanks!
And be sure to check out Kathreen's blog Whip Up, where she has reviewed a copy of my book, 1, 2, 3 Sew!
Here's the full blog tour schedule if you'd like to follow along:
Monday, November 7 – The Long Thread
Tuesday, November 8 – Craft Nectar & Comfort Stitching
Wednesday, November 9 – luvinthemommyhood & Elsie Marley
Thursday, November 10 – True Up
Friday, November 11 – House on Hill Road & CraftyPod
Monday, November 14 – Handmade by Alissa & Hello My Name Is Heather
Tuesday, November 15 – West Coast Crafty & Foxy Art Studio
Wednesday, November 16 – Patch Andi & The Last Piece
Thursday, November 17 – In Color Order & Duo Fiberworks
Friday, November 18 – Kristin La Flamme & Camp Follower Bags & Quilts
Monday, November 21 – Quilt Dad
Tuesday, November 22 – Pat Sloan & Pleasant Home