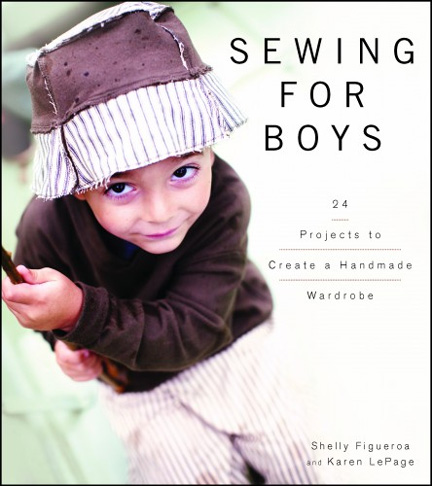 Today I'm excited to be part of the Sewing for Boys blog tour. Sewing for Boys, written by Shelly Figueroa and Karen LePage and published by Wiley, fills the need for more boy clothing patterns in the marketplace. With 24 projects, pattern sheets, illustrations and photos, the book is a great resource for those of you with a little boy in your life. Many of the clothes are knits and all are great for rough and tumble play throughout the year.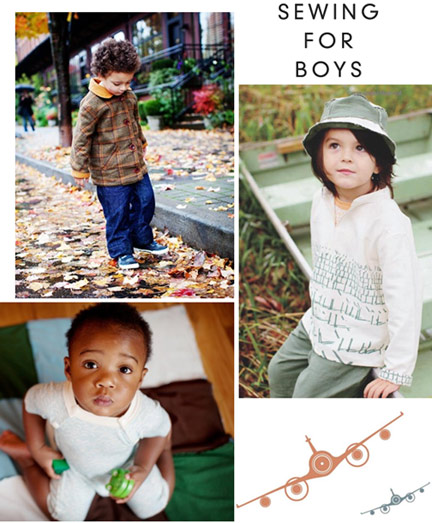 Of course, boys don't get to have all the fun here; many of these patterns can easily be adapted for little girls as well. I started with the Easy Linen Shirt pattern (above, right) and made a peasant blouse and shirt jacket for my six-year-old with a few modifications, as you can see below. If I'd had more foresight, I would have lined the shirt jacket with the pink fabric, or even some flannel. Right now the buttons are decorative, but I plan to get some thin elastic for a closure.
The fabric for the jacket is from Josephine Kimberling for Robert Kaufman (ordered from fabricworm) and the peasant blouse is a Lecien print from a few years back that I just love. I picked up the pink linen/cotton blend from Whipstitch yesterday.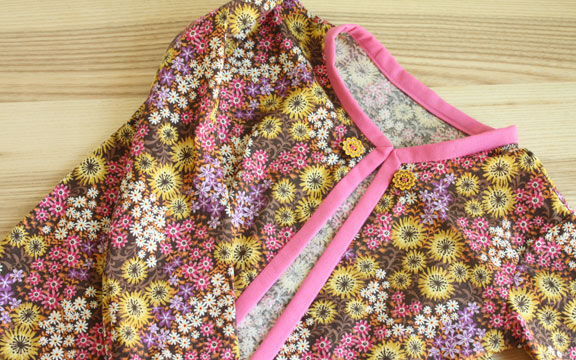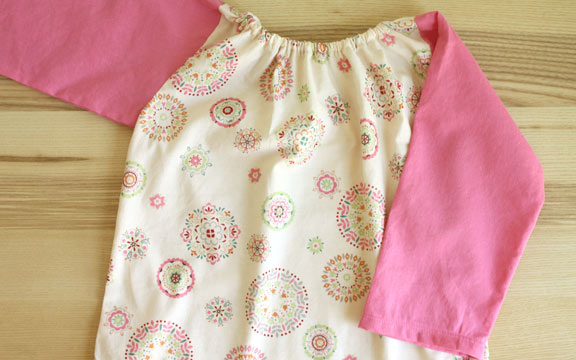 Oh, and the giveaway! Today you have the chance to win one of two copies of Sewing for Boys. Just leave a comment below by midnight (eastern) Saturday to enter. I'll choose two winners randomly. Shipping is to the U.S. and Canada only. Thanks!
And here's the full list of stops for the book tour, so be sure to check out the other posts:
September 5 Made by Rae
September 6 Sew, Mama, Sew
September 7 The Southern Institute & Film in the Fridge
September 8 Elsie Marley
September 9 Noodlehead & Oh, Fransson!
September 10 I Heart Linen
September 11 Anna Maria Horner
September 12 Craft Buds, Pink Chalk Fabric , Prudent Baby , Sew Much Ado
September 13 Very Purple Person, Quilt Story & Sew Sara
September 14 The Long Thread
September 15 Susan Beal
September 16 True Up
September 17 All Buttoned Up & Bolt Fabric Boutique
September 18 MADE & Wiley Craft