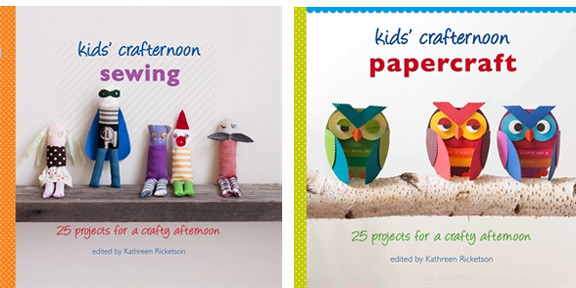 I'm happy to be part of the blog tour for the new kids' crafting books from Kathreen Ricketson of Whip Up. Kids' Crafternoon Sewing and Kids' Crafternoon Papercraft are published by Australian publisher Hardie Grant, but you can also find the books online in the U.S. from independent sellers through amazon.
Kathreen compiled and edited this series of books with many different contributors (including me), who developed 25 projects for each of the books. Two more books in the series will be available this fall — beading and felting. As with all of Kathreen's kid projects, they seem to be "kid-tested, mother-approved". My kids (six and eight years old) looked through the books and found projects they want to make and I love that the projects are at a skill level that is actually achievable for them. The books are hardcover with spiral binding, filled with charming photographs, clear and simple instructions and adorable illustrations (drawn by Kathreen's husband).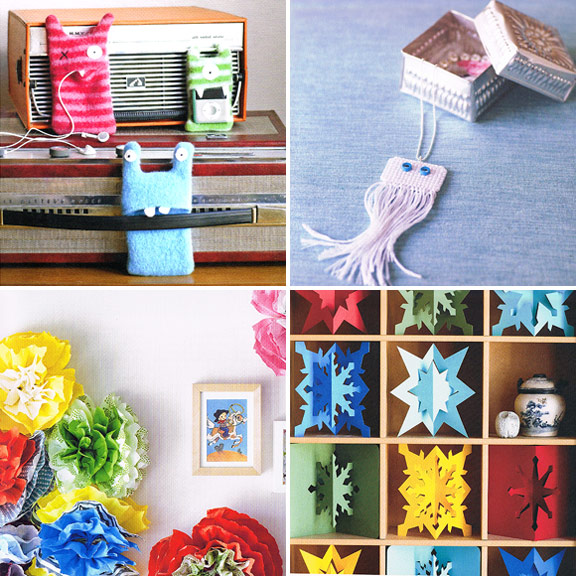 Pictured above are the iPod Creature Cosy from Holly Keller, Jellyfish Pendant (my project), Wallflowers from Dana Willard and Kirigami Snowflake and Star from Elod Beregszaszi. The top two are from the sewing book and the bottom two from the papercraft book. Other projects in the sewing book include a pencil pouch, brooch, scarf, bag, checkers board, softies, pillows and more. In the papercraft book there are kites, puppets, pinwheels, a monster piñata, cards, paper toys and still more! The target ages are 7-12, but there is something for all ages and definitely projects that appeal to boys as well as girls. We'll be making things soon!
Thanks to Hardie Grant, I'm giving away a copy of the sewing book for residents of North America. Just enter by leaving a comment below by Wednesday, August 10 at midnight eastern. I'll choose a winner with the random number generator and announce it the next day.
And be sure to check out Kathreen's digital kids' craft magazine Action Pack. There are five in the series so far, filled with craft ideas, recipes, science experiments and all kinds of fun kids' stuff.
Take a look at the previous and upcoming Kids' Crafternoon blog tour posts here:
22 July Poppytalk
23 July Picklebums
24 July Little Eco Footprints
25 July Beaspoke quilts
26 July Maya Made
27 July Checkout girl
28 July The red thread
29 July We Wilsons
30 July Maggie Makes
31 July Mmm Crafts
1 August Domesticali
2 August Floating Ink
3 August Elizabeth Abernathy
4 August Mommy Coddle
5 August The Long Thread
6 August Hannah Fletcher
7 August Between the lines
8 August Go Make Me