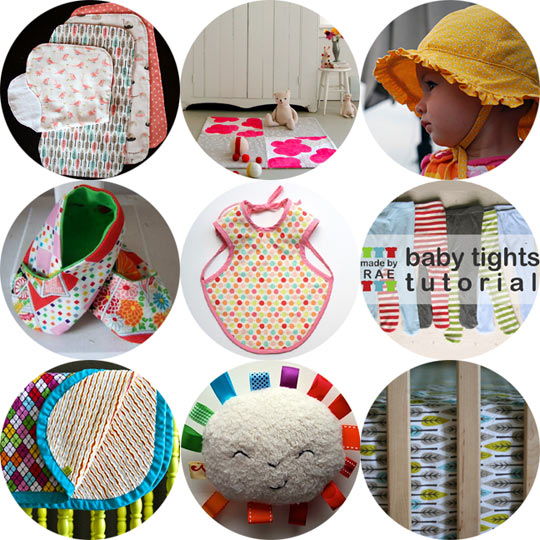 Here's a quick round-up of sewing projects for baby.
Pictured above:
Contoured Burp Cloths from Cloud 9 Fabrics.
Cheerful Quilted Playmat from The Purl Bee.
Ruffled Sun Bonnet from Merriment Design.
Kimono Shoes from Homespun Threads.
Baby Apron from Craftiness is Not Optional.
Baby Tights from Made by Rae.
Faux Chenille Blanket from MADE.
Rainbow Sunshine Plushie from Chez Beeper Bebe.
Crib Sheet Tutorial from Prudent Baby.
And more…
Baby Bib from Creation Corner.
Diaper Bag from A Mingled Yarn.
Cupcake Onesie from Houseful of Handmade.
Baby Changing Station from Kojo Designs.
Burp Cloths with Loop from Merriment Design.
Personalized Baby Quilts from Moda Bakeshop.
Necklace Onesie from Brown Sugar Toast.
Diaper Pouch from Noodlehead.
Ribbon Pacifier Clip from How about Orange.
Growth Chart from Unraveled.
Boys' Appliqué Tie Onesie from Brassy Apple.
Stuffed Animals from Merriment Design.
Satin Luxe Blanket from Aesthetic Nest.