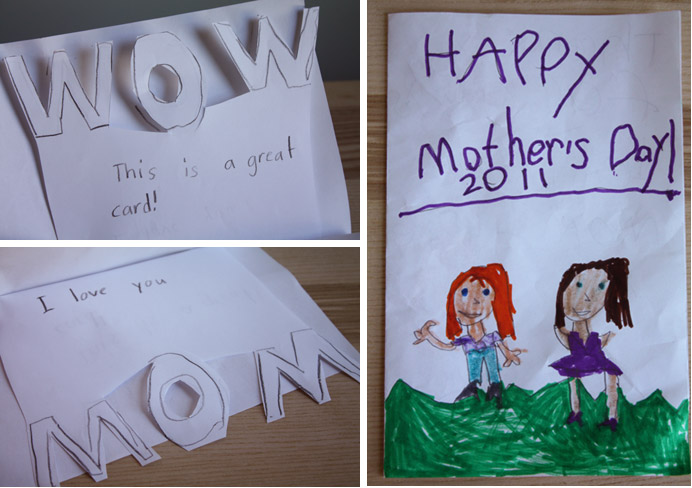 Happy Mother's Day! It was less than ideal around here, but we made it through the day. Parenting is so hard, but worth it. And it sure makes you realize the full extent of what your mother did for you. Thanks, Mom. If you're a mother, you'll enjoy this excerpt about a mother's wish for her child from Tina Fey's new book, Bossypants. It could even make you cry, if you are an emotional mother today.
Anyway, my sweet and creative daughters made me some lovely cards. Love the wow/mom creativity (done all on her own) by my eight-year-old and that's me with the orange hair there on the right in the drawing made by my six-year-old. Hmm, maybe you're not as interested in the handmade cards my kids gave me as I am. But thought I'd share.
And congratulations to #81, Meg from Elsie Marley, who is the winner of Handmade Weddings. You will hear more from Meg later this month in a guest post. And she's been doing some interesting and inspirational interviews with children's clothing designers, so be sure to check that out. Hope you enjoy the book, Meg!