It's pillow month over at Sew, Mama, Sew! Check out this huge round-up of pillow tutorials, including a few of mine. Be sure to check out their sale fabrics while you're over there. And I'm loving this new collection from Jay McCarroll.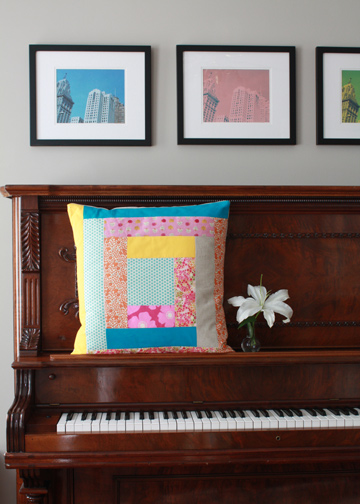 Speaking of pillows, over the weekend I made this log cabin pillow for our guest room/play room. When we were snowed in a few weeks ago, I cleaned out closets, painted three rooms and reorganized things, converting our guest room into a multi-function playroom (and I drove my family crazy).
I painted the walls for the play space a neutral cream color, but the girls wanted pink, so I ordered this fabric for window shades and I'm making a bunch of throw pillows with pink accents for the bed. The pillow is in the living room in this photo because the playroom/guest room is still a giant mess!