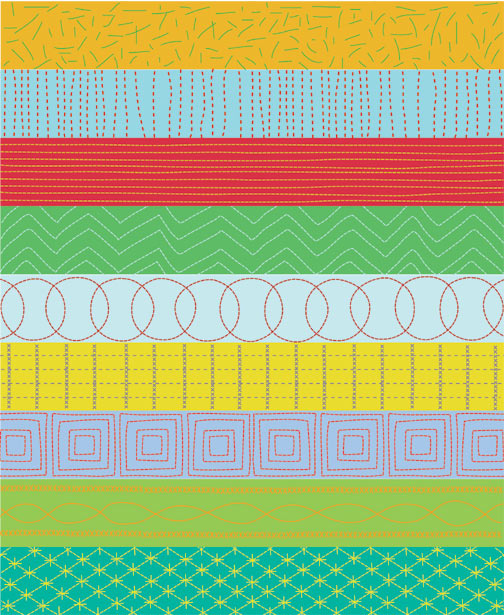 Fool that I am, I have volunteered to coordinate the auction quilt for my daughters' entire elementary school (almost 400 kids). So I thought it would be interesting to show our progress here on the blog. I wanted the quilt to be something that the kids could really get their hands on rather than something the other volunteers and I sew on our own, and with my children's previous Montessori experience I immediately thought of embroidery.
So, again, fool that I am, I'm going for a stitched quilt as you can see in the digital sketch above. The school starts in the pre-primary years, so children from age three through sixth grade will be working on it (nine age groups). My idea is to make the stitching progressively more complex from the youngest to oldest kids — top to bottom. I think they will all be running stitches, maybe some back stitching and some simple cross stitching in the older grades. So far, I have only bought the fabric, but I plan to cut the fabric and mark out the designs with chalk, serge the edges since it will be handled a lot, and get all of the supplies ready to go for next week.
The colors will be slightly different from those shown above. I initially wanted to do it on a white background, but I think it has a more child-like quality with the bright colors. So, this could be a complete disaster, or it could turn out beautifully. You'll have to wait and see!
Luckily, Deborah of Whipstitch Fabrics donated the fabric for us. Thank you, Deborah! If you live in Atlanta, you really should visit her shop on Marietta Street if you haven't made it over there yet. And if you're not local, you can still buy some wonderful fabric from her Etsy shop here. And more luck — Melody Miller, the fabulous designer of Kokka's new line, Ruby Star Rising, has children at the same school so she'll be helping with the project. And there are a handful of other wonderful people who have volunteered to help, so at least I'm not in this alone!