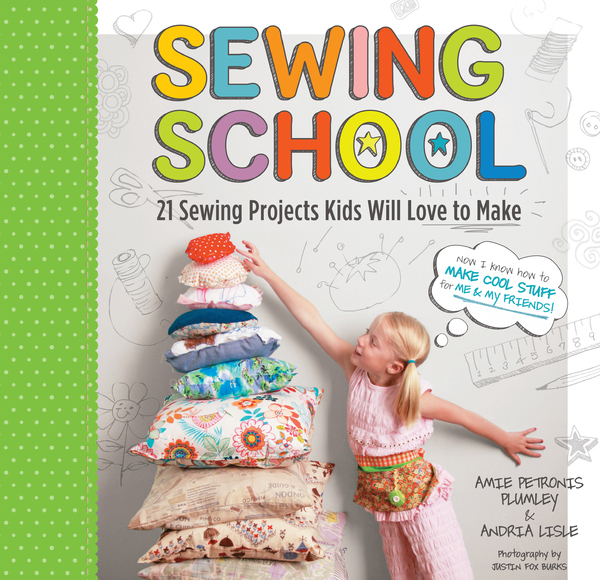 Winter break will be a great opportunity to stay in with the kids and work on projects, so I was excited when Storey Publishing sent me a copy of Sewing School: 21 Sewing Projects Kids Will Love to Make by Amie Petronis Plumley and Andria Lisle (who are from my husband's hometown of Memphis). I think this would make a great gift for any child in your life.
Amie is a kindergarten teacher and both of the authors teach a summer sewing camp together, so they bring a hands-on, practical approach for kids aged 5 and up, written in clear language so that children can read and follow instructions on their own. The authors mention the Montessori and Waldorf teaching styles in their introduction and I can appreciate the independence that comes from teaching kids to sew. My kids loved their sewing experiences in the Montessori classroom and that experiential learning process is what I miss most about the approach. I think all kids (girls and boys) can benefit from learning to sew by improving their fine motor skills, gaining a sense of independence and having the opportunity to be creative.
There are twelve basic introductory lessons in the book followed by 21 simple projects for kids to make, with pattern sheets included at the back of the book. There's also a section on mending and making recycled projects, in addition to a chapter about fixing that dear stuffed animal who has seen better days.
The photos are of real kids sewing with quotes throughout, which helps make it accessible. Each of the projects has step-by-step photographs to make it easy for your child to follow. And if you don't know how to sew, you can learn right along with your kid. Projects include an apron, coasters, softies, a blanket, wallet and more. Maybe this book will help bring my almost-eight-year-old out of her crafting strike. We'll see.
Please leave a comment below to enter to win a copy of Sewing School. This giveaway is for the U.S. and Canada only. Please enter by midnight (eastern) Saturday, December 18 and I'll announce the winner on Sunday.