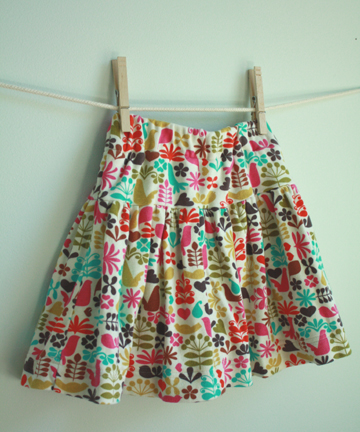 Not really a skort, but a full skirt with shorts underneath for your little tree-climbing, cartwheel-turning girl.
My kids love the clothes from Hanna Andersson, so when I saw this Scandinavian-style print from Patty Young (for Michael Miller), I knew I had to make them some skirts like the ones they love so much. I rarely sew with knits and I don't own a serger, but my kids love comfortable clothes. I'd say this makes about a size 6, but with an elastic waist you can easily adjust the waist and length to fit any kid. You could also skip the shorts if you want, or make them long and narrow with a contrasting fabric for built-in leggings. The skirt here has a wider waistband than what's written in the instructions, but that's just what I had on hand. I didn't get a very good photo of the shorts on the inside, but they're just basic.
So if you want to make one like this, you can download the .pdf instructions by clicking on the image below.