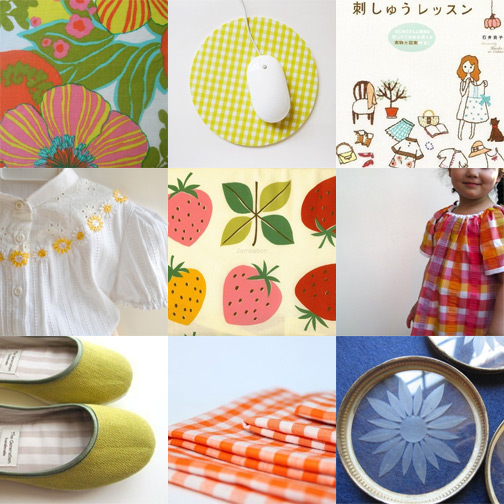 Vintage Fabric, fat quarter $2.50 from So So Vintage.
Yellow Gingham Mouse Pad, $10 from Tiny Shoppe.
My First Embroidery Lesson, Japanese craft book, $24 from MeMe Craftwork.
Dainty Daisies Outfit, skirt and blouse, $75 from Little Girl Pearl.
Strawberries Kokka Fabric, 1 yd for $16 from Jamsabon.
Upcycled Seersucker Girl's Dress, $42 from Sewn Natural.
Ballerina Flats in Lime Green, $55 from The Generation.
Orange Gingham Napkins, set of 6 for $15 from Peppermint Pinwheels.
Vintage Glass and Silver Coasters, set of 4 for $80 from The Stuff of Memories.