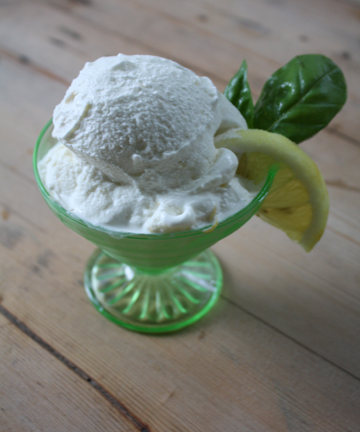 We've had a relaxing rainy weekend at home, so there's not much to do but eat. With each change of season, my interest in cooking is renewed as new produce becomes available and I crave new flavors. In anticipation of the hot weather, it's been all about basil for me this month. So we decided to make some lemon basil ice cream with our ice cream machine. About a month ago I had some basil gelato, but I didn't like the pieces of frozen basil in it, so I made our ice cream with basil flavoring by simmering it in the milk and then straining it, then we added the lemon flavor for balance. My kids liked this ice cream, but I have to say that my children are forced to eat all kinds of unusual things, so I'm guessing many kids might not like this. Here's how I made it if you want to try it.
Ingredients:
2 c. milk
1 bunch basil
3/4 cup sugar
1 cup heavy cream
2 lemons (zest only)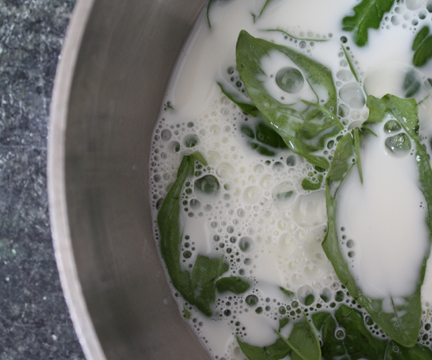 Simmer the milk with the basil over low heat until the basil leaves wilt and turn brown. Remove from heat and strain the milk removing the basil. Mix in the sugar while the milk is still warm and then refrigerate this mixture. Zest the two lemons and set this aside. I always put my milk and cream in the freezer for about 10 minutes before I make the ice cream so it will be ice cold. Remove from the freezer and mix the basil-infused milk with the cream and lemon zest.  Pour the mixture into the bowl of the ice cream maker. Mine usually takes about 30 minutes to turn into ice cream.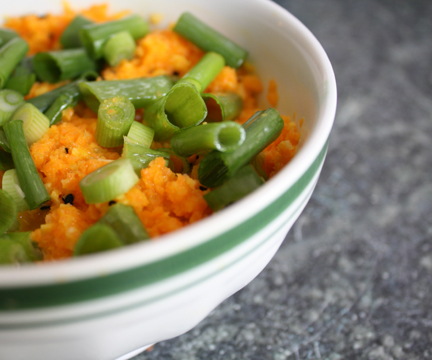 Then we made this carrot ginger mixture that I tossed in with our salad, but it would also make a great dip with crostini. My five-year-old helped me with this one. We used the food processor to mix carrots, ginger, garlic, olive oil, rice vinegar and salt. Then we mixed in black sesame seeds and added some green onions for garnish. Both of my children liked this, but they draw the line at onions, so I didn't mix them in with the carrots. Our salad was simply red leaf lettuce and edamame tossed with this carrot mixture.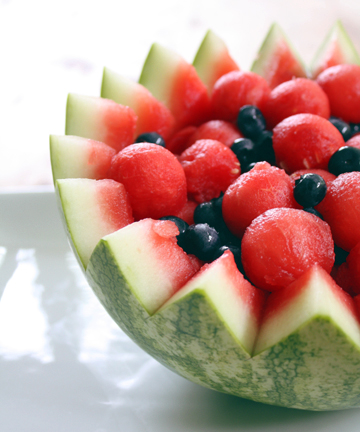 My seven-year-old is always an advocate of pretty food, so when I told her that we could carve the watermelon to make a bowl, she jumped at the idea. I cut the bowl and she used the melon baller to scoop up all these watermelon globes while making a sticky mess of the counter and floor. Then she added blueberries. This would be great for the Fourth of July. For more ambitious watermelon carving ideas, check here.