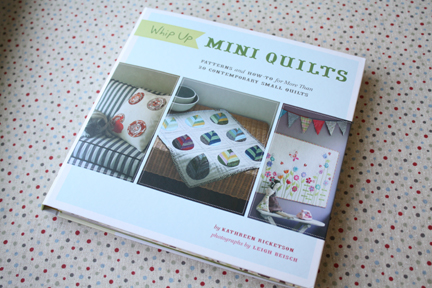 I've been paying a lot of attention to the publications coming from Chronicle Books lately since my book will be added to that list soon, so I was excited to see this book from Kathreen Ricketson of Whip Up. The book is Whip Up Mini Quilts: Patterns and How-to for More Than 20 Contemporary Small Quilts.
As the name implies, the book features mini-quilts – and from some of your favorite crafters including Malka Dubrawsky, Alison Brookbanks, Betz White, Alicia Paulson and more. I think this is a nice book for anyone who likes to sew, but small quilts are always a good idea for those just getting started with quilting. Now I almost never follow project instructions (yes, strange coming from a person who writes instructions), but rather use sewing books as inspiration — and there are lots of ideas here.
One of my favorite quilts is Power-line Sky by Meg Spaeth. I love the simplicity and the way it seems to capture the essence of a photograph. And I like the option of a one-piece design or patchwork, but they look great together.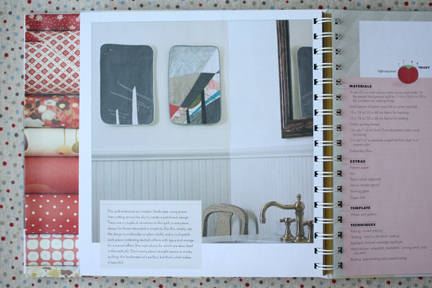 And for those you looking to make something a little more difficult, there's A Little Birdie Told Me by Kellie Wulfsohn, pictured below. Since there are many contributors to this book, there are a variety of styles and difficulty levels. Mini-quilts are nice because they can serve as affordable artwork for your bare walls and they can be made quickly. This book makes me want to get some quilting done this summer. Now, if only I could find my scissors.