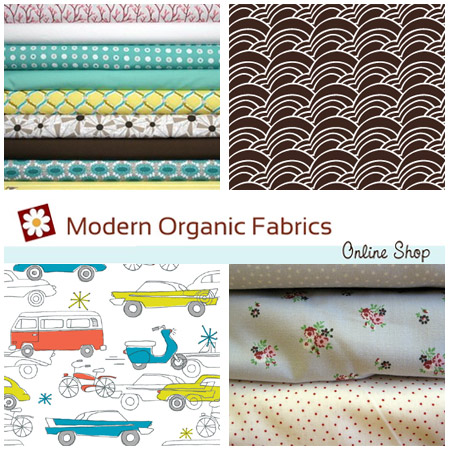 Modern Organic Fabrics is a favorite Etsy shop of mine, and now Melanie has just opened her own independent online shop.  It's been exciting to see so many new lines of organic fabric entering the market over the past couple of years and Melanie offers a nice selection, including the new fabrics pictured above from Cloud9 Fabrics, Daisy Janie, Birch Fabrics and Westfalenstoffe. To celebrate her opening, she  is generously offering a $50 gift certificate for you!  Here's some more information about Melanie and her shop (from her about page):
Melanie O'Brien is an energetic fabric-aficionado who has turned her focus to organic materials. As she stocks her shop she is searching out bright prints, colors and great design in organic quilting cottons, knits and more. She is also on the lookout for the best patterns and tutorials for utilizing these fabulous fabrics.
Melanie is the mother to three young girls and she works from her home in the Milwaukee, Wisconsin area. Before opening Modern Organic Fabrics she was the voice behind The Fabric Shopper blog.
To enter, simply take a look at the shop here, then come back and leave a comment about your favorite things. This giveaway is open internationally. Please enter before Sunday, March 14 (midnight eastern).