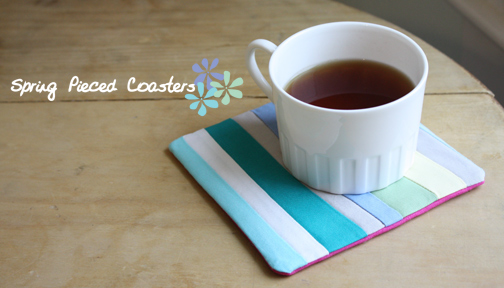 I know it's not spring yet, just wishful thinking. I happen to have a large number of scraps in my sewing room at the moment in these lovely beach-inspired colors. And I just received a review copy of Alabama Studio Style, which has a lot of string-pieced projects (more on that later in the week).
So here's a quick tutorial for string-pieced coasters. It seems that I do a lot of coaster tutorials here, but I'm a fan of quick, easy and useful things. And this is a great project for fabric scraps.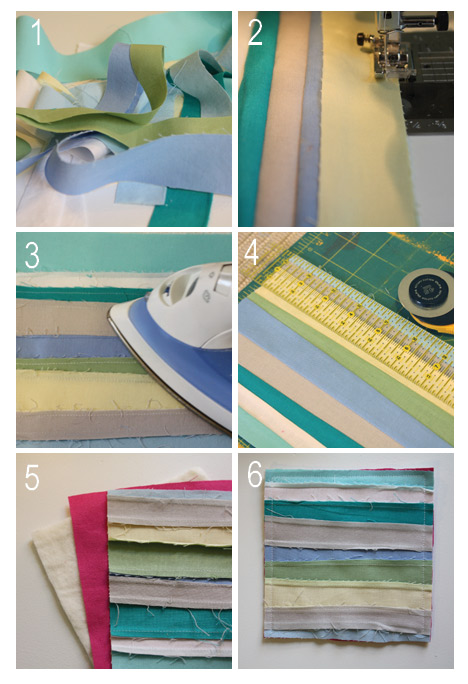 Supplies (for 4 coasters):
Fabric scraps: min. 24″ length
Backing fabric: 5 1/2″ x 22″
Quilt batting: 5 1/2″ x 22″
Matching thread
Cut fabric scraps with minimum 24″ length. Cuts should not be straight.
Sew right sides together until you have a width of 6″ or more.
Press.
Cut off sides and top to form a rectangle 5 1/2″ x 22.
Cut out tops, batting and backing fabric in 5 1/2″ squares.
Sew around, leaving an opening to turn right sides out. Opening should be on a side with one continuous piece. Clip off the corners.
Turn right sides out, press and hand stitch the opening closed.