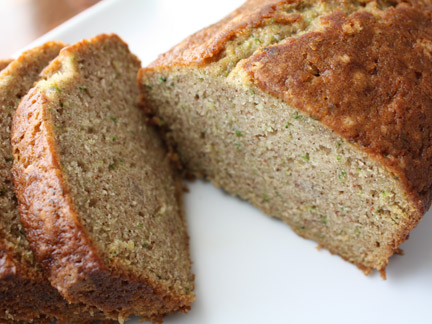 Just made some of this super moist and delicious zucchini bread yesterday, from our friend Colleen's recipe.  She gave me permission to share it with you!  My kids are eating it up.  We're going to call it healthy because it contains a vegetable (let's overlook the oil and sugar).
Aunt Colleen's Zucchini Bread
3 c flour
1 t baking soda
1/2 t baking powder
1/2 t salt
1 T cinnamon
3 eggs
2 1/4 c sugar
2 1/2 c grated zucchini
1 c vegetable oil
1 T vanilla
Preheat oven to 350 degrees.  In a large bowl, sift together the first
five ingredients.  In a separate bowl, beat the eggs.  Then add sugar,
grated zucchini, oil, and vanilla to the eggs.  Gradually add the dry
ingredients to the egg mixture, being sure not to overmix.
Pour into 2 greased 9x5x3 bread pans.  Bake at 350 for 1 hour.
Yum!  Thanks for sharing, Colleen!