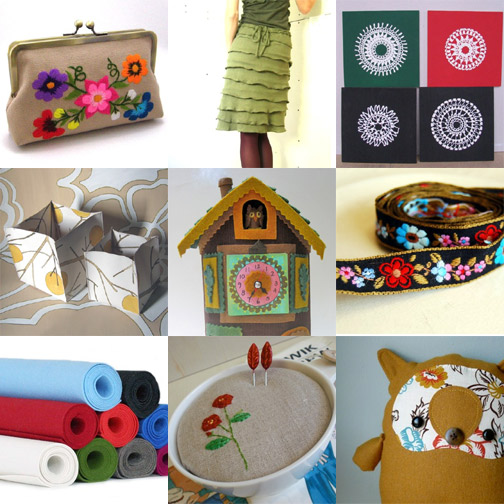 Colorinches Clutch with hand embroidery, $75 from MISMA.
Ruffled Skirt, $70 from Treehouse 28.
Personalized Doily Painting, $35 -$51, from Ottoman.
Yellow Branches Wallpaper Box, $15 from When in Doubt, Draw Flowers.
Woodland Gnome Home Whoo Whoo Clock, $95 from Duo Fiberworks.
Embroidered Trim, 3 yards for $7.50 from Callooh Callay.
Wool Felt, 1/2 yard, 2mm, color of your choice for $42.50 from Filz Felt.
Rose Pincushion, $14.50 from Christina's.
Sunshine Fox Eco-Friendly Plush, $26 from Stitchface.