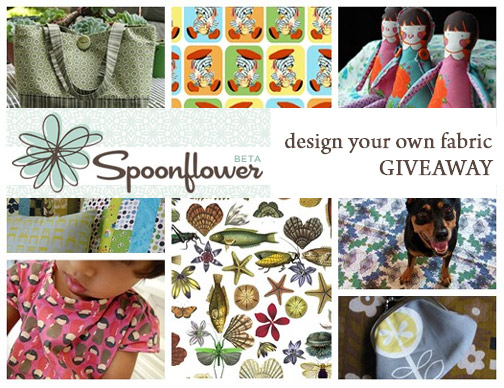 Spoonflower offers you the chance to become a fabric designer.  Upload your own fabric design and they'll print it for you.  Have you tried it?  Would you like to?  This week Spoonflower is offering two yards of your custom quilting-weight cotton fabric for our giveaway.  Here's some information about how to create your design.  But if this confuses you or you don't have the software capability to create your own design, I'm offering to help.  Just send me your design — a quick doodle, your child's artwork, a photo of your cat, whatever you like — and I'll create the file for Spoonflower.  You can even send your design in the mail if you don't have access to a scanner.  So EVERYONE is eligible for this giveaway!
For your chance to win, simply post a comment by following the link at the bottom of this post.  Comments must be submitted by SATURDAY night at midnight (eastern). The winning comment will be selected by the random number generator and posted on Sunday.  This giveaway is open internationally, so bring on the world!
If you have a shop of handmade goods or craft supplies and would like to be featured in a giveaway, please e-mail me (thelongthreadATgmailDOTcom). The Long Thread loves to support handmade!