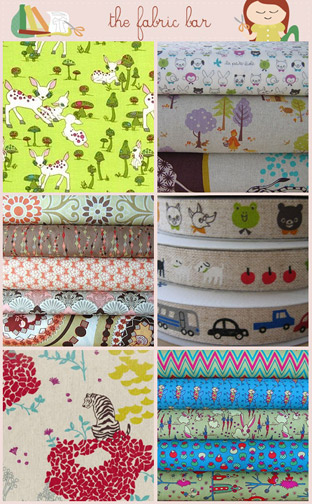 Fabric Giveaway!  Amy of  the fabric bar has offered up your choice of FIVE YARDS of fabric from her wonderful new Etsy shop.  Choose from some of the best fabric designers including the new Jay McCarroll line (the knitting fashion designer who won the debut season of Project Runway), Art Gallery, Wendy Slotboom, Amy Butler, Echino and other Japanese prints — plus more!  You may substitute a yard of fabric for a meter of  Japanese twill tape .  Visit Amy's shop for details about the fabrics pictured above.
To enter the giveaway, simply leave a comment on this post by midnight Eastern time Saturday night.  Amy will ship internationally, so the giveaway is open to all.  I will choose the winning entry using a random number generator.

If you order from the fabric bar, mention thelongthread in the notes section of your order for a 10% refund.  And be sure to look for Amy's new online shop coming soon.

If you have a shop of handmade goods or craft supplies and are interested in having a giveaway, please e-mail me (thelongthreadATgmailDOTcom) for more information.  I'd love to make this a weekly feature and help support handmade.