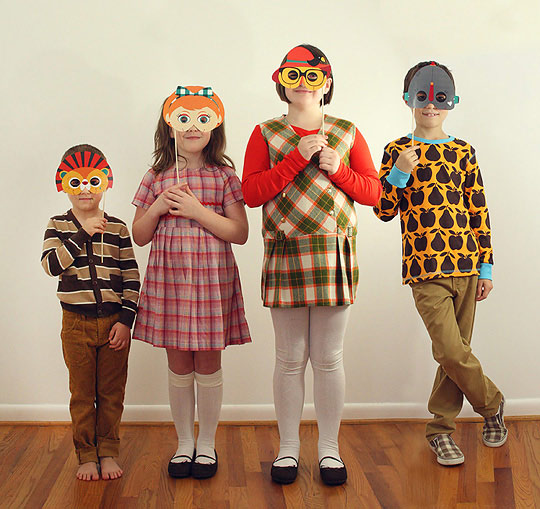 Looking for a last-minute Halloween costume idea? Or pretty wall decorations for a child's room? Photo props? Danielle of Kitschy Digitals wrote to me about her new line of printable masks. They are so cute!
Dress up your kid as a scarecrow (flannel shirt, overalls, hay coming from arms and legs) and use the  mask from the Wizard of Oz set (designed by Chelsea Ann Redinger) or try the sweet butterfly mask below (designed by Melody Miller) and whip up a pair of these wings. Done!
I don't know how these holidays always sneak up on me and I am in awe of you organized folks out there who make Halloween costumes in August! This year my seven-year-old is dressing as Ginny Weasley from Harry Potter and my nine-year-old is going as a recycling bin. You might be able to tell that my girls have slightly different personalities. I decided not to make any of the Harry Potter attire because it is so easily available, but we are dyeing her hair red! For my older daughter's costume, I cut the bottom out of a recycling bin and also cut arm holes, then we'll attach paper and cans to it. The irony of this costume is that by destroying the recycling bin, it's not very environmentally-friendly. But we are planning ways to re-use the bin and my daughter already made a coaster from the armhole plastic piece by gluing felt to the top.
You can see my kids' costumes from last year here and read more about my costume advice here. My favorite costume that my older daughter wore is still the Violet Beauregarde as a blueberry from Willy Wonka. Loved that one. Good luck to everyone who will have late-night Halloween sewing to do!