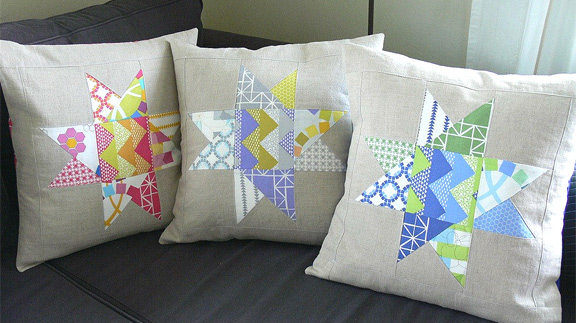 Another winner of the Quilt Blocks Shop Challenge is Jenny Bartoy, who you may know from her blog Stumbles & Stitches, which she writes along with her friend Angel. Jenny has made some really great things with my Quilt Blocks fabric. I love her use of the fabric with linen, of course. And the stars and flying geese designs are just perfect with this fabric.
Here's Jenny to tell you more about how she got started sewing and opened her Etsy shop:
Thank you so much, Ellen!  I design fabric art and handmade items that I sell in my shop on Etsy.  Inspired by nature, patchwork and clean design, I love to work with linen, burlap, felt and modern fabrics.  I stock my shop with artwork, housewares and accessories as inspiration strikes — usually combining natural linen and bold designer prints for a result that is both modern and earthy.
I grew up seeing my mother sewing, constantly and fearlessly.  My mom taught me the basics when I was young and bought me a sewing machine when I got married.  When my first baby was born, I began sewing regularly, preferring to experiment with my own designs over following patterns.  Two years ago, I launched the blog Stumbles & Stitches with my dear friend Angel to share our projects with each other (and with the world!). Last fall, I opened my business on Etsy and have enjoyed it very much so far.
 I grew up in France and moved to Austin, Texas as a teenager.  I have lived all over the United States and hold degrees in Film and Social Cultural Anthropology.  Some day, I'd like to make documentary films!  Alternately, I wouldn't mind backpacking around the world with my family or living on a farm in the country surrounded by chickens and fruit trees.  I currently live in beautiful Seattle, WA with my archaeologist husband, our two sons and one rambunctious kitty.