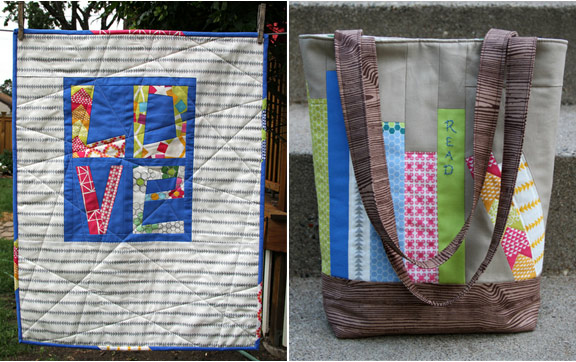 The next winner for the Quilt Blocks Shop Challenge is Michelle from City House Studio. She made this amazing Love quilt and also an adorable library tote bag, which you can find in her shop. You can visit Michelle's blog here. And below is a bit about how Michelle got started sewing and opened her Etsy shop. Plus, see some more things she's made in the images below.
I learned to quilt the summer I graduated from college. I had moved home for the summer, and before starting graduate school, I told my mom that I wanted to make a quilt. Of course I chose a queen sized pattern! So my mom and I spent many hours together trying to figure out how to "quilt." We bought a good reference book and a rotary cutter, but we actually used a wooden cutting board on the kitchen counter to cut out all of the pieces! We pieced it on my mom's old Singer, which hadn't been used since my 4H project in 8th grade. We didn't quite finish it before my classes started in the fall, so she quilted and bound it herself (this was quite a job for a brand new quilter!), and delivered it to my apartment when she visited me at Thanksgiving. What an amazing mom, huh? My parents bought me a sewing machine for my birthday after I got married, and I've been quilting ever since.
Life was crazy busy after my twins were born, but I'm a much happier person if I can spend a little time each day with my sewing machine–so I've always managed to find time for quilting. My nephew was born 4 weeks after my twins, and to finish his quilt I figured out how to sew with a baby on my chest in a Baby Bjorn! Two of my favorite projects include a birthday table runner that I made for my twins' 1st Birthday, and the Farmer's Wife quilt I made as a present for my Grandma on her 90th birthday.
I recently opened an Etsy store, in an effort to keep my house from becoming completely overwhelmed with the quilts and other projects I've made! I wrote my first pattern this spring, a Library Tote bag, after receiving many wonderful comments about the Library Totes that I've made for my girls' teachers.