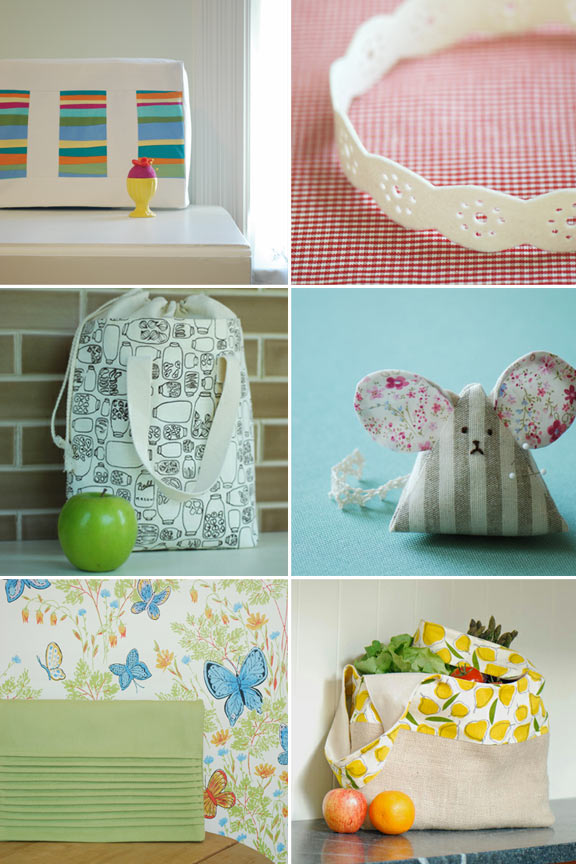 I'm not sure that I ever did a round-up of all the free projects available from 1, 2, 3 Sew. Six free projects — five from the book, plus a bonus project that we couldn't squeeze into the book. Photos above and below by Laura Malek of Felt Jar.
Patchwork Sewing Machine Cozy, free project on the Chronicle Books website.
Eyelet Headband on CRAFT.
Lunch Sack on Sew, Mama, Sew!
Mouse Pincushion Video Tutorial for Etsy (I can NOT watch that, but you are welcome to).
Pintuck Clutch on Burda Style.
Market Tote on the Chronicle Books blog.
And here's a post on babble from last summer's blog tour about the things that inspire me. I just went back and read it again and it's interesting to see how those same influences are at work in my designs for the next book.
Below you can see images of the chapter openers from the book so all 33 projects are shown here. The book is divided into chapters of three projects; and within each chapter the projects getting progressively more challenging and build on the skills you've already learned. So you can make projects from the book at random, or you can focus on improving your skills and sew the projects in order. I'm working on a yo-yo project right now for the next book and am thinking of the forty 1″ yo-yos that my intern sewed for the linen scarf below. I really like that project.